Prep basketball team defeats McDowell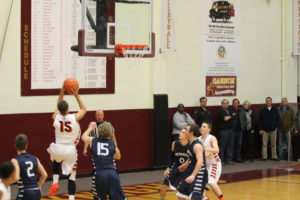 1,950 filled the Hammermill Center last night with absolute electricity as they watched Cathedral Prep storm back from an early first half deficit to defeat the hated crosstown rivals that are the McDowell Trojans by the score of 52-47.
Prep was led in large part by senior stand out guard Matty Harris. Harris led all scorers in the game with 24 points, 8 of those coming in the fourth quarter alone.
The Trojans, who entered the game 14-1, jumped right out of the gate by gaining a 10 point lead on the Ramblers entering the second quarter and ultimately led at halftime by the score of 25-21. Due to poor shooting and sloppy play by the Trojans, the Ramblers were able to gain ground and slowly claw their way back into the game.
Prep was able to overcome some poor shooting from the charity stripe as they shot 7-18 throughout the game and just 3-14 in the fourth quarter alone with all 3 made shots coming from Harris. The Trojans fell to 14-2 overall and suffering their first loss in region play. Prep improved to 8-5 with a 2-0 region record.
The Ramblers have now won their past 10 games against the Trojans dating back to 2010. The teams next meet Feb. 14 at McDowell in what promises to be another fun chapter of this heated local rivalry.