New teachers welcomed at Villa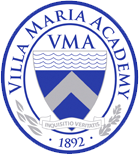 New teachers from all over are joining the Villa Maria Academy family this 2021-2022 school year. These new members of our community bring an exciting, new way of learning with them, and we welcome them to our school.
The new French teacher is Mr. Jordan Francois. He is new to both Villa and Prep, teaching the foreign language on both campuses. He teaches French 1, 2, 3, and 4 to all grades (9-12), and we are lucky to have him in our Prep-Villa family.
Mr. Kauffman is new in the science department. He is unfortunately out due to surgery, and we continue to wish him a quick and easy recovery.
Villa's new art teacher, Ms. Shalk, had an appreciation for art and education throughout her life. She discussed the importance of art in education, individuality, and our school.
"It brings a means of students producing more than test scores or being statistics," Ms. Shalk said, explaining why art is important to education. "It's more about being an individual."
Ms. Shalk also has ideas to bring the community together through art. She discussed community events through NAHS that will incorporate parents and family to really tie that sense of community together. There is also an "Artist of the Week" section where students are able to submit their artwork to be highlighted outside the art room for a week.
"I felt welcomed, and it felt like they cared that I was here," Ms. Shalk said. We continue to welcome her and all the new teachers joining the Villa community this year.