Who or what won 2013?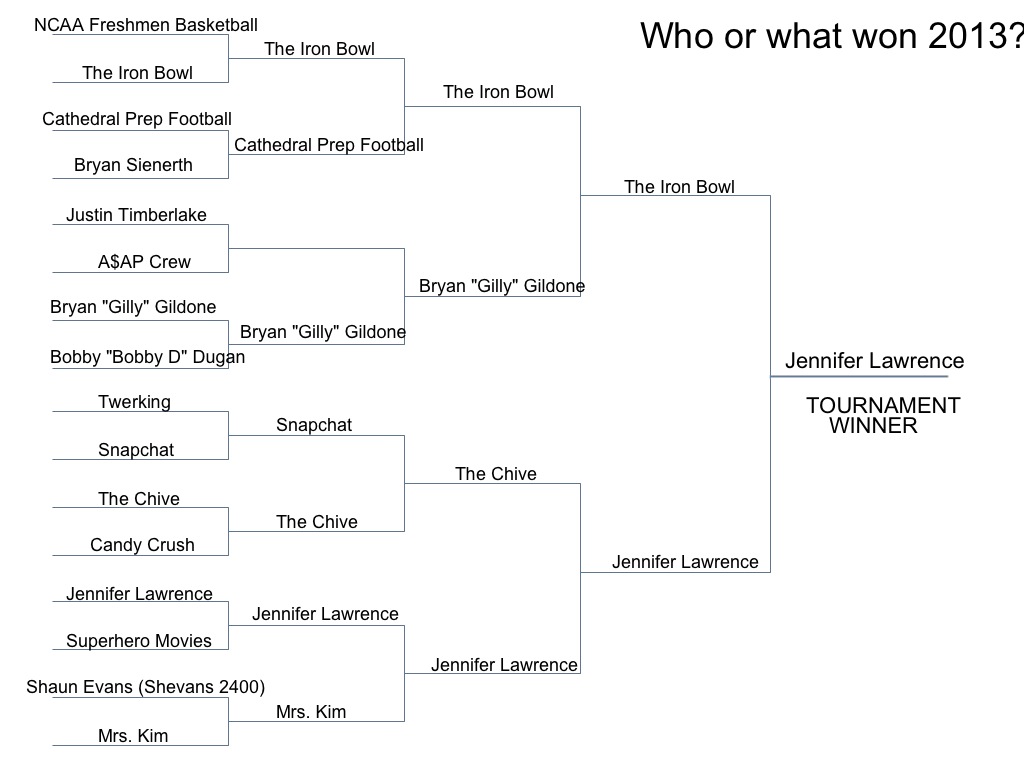 Final Update 12/20/13: Thanks to all 46 people who cast their votes in the final round. The votes have been counted and the question, "Who or what won 2013?" has finally been answered.
Jennifer Lawrence is the winner, defeating The Iron Bowl 30 votes to 16 to take home the championship with 65% of the vote.
Semifinal Results: Thanks to all 55 people who cast their votes in round three. The results are as follows:
The Iron Bowl (52.7%) defeated Gilly (47.3%).
Jennifer Lawrence (56.4%) defeated The Chive (43.6%).
Quarterfinal Results: Thanks to all 60 people who cast their votes in round two. The results are as follows:
The Iron Bowl (61.7%) defeated the Cathedral Prep Football Team.
Gilly (61.7%) defeated Justin Timberlake (21.7%) and A$AP Crew (16.6%).
The Chive (60.0%) defeated Snapchat (40.0%).
Jennifer Lawrence (53.3%) defeated Mrs. Kim (46.7%).
Semifinals voting is now live (VOTE HERE) and will be open until 11:59 p.m. Eastern time on Thursday, Dec. 19.
1st Round Results: Thanks to all 56 people who cast their votes in round one. The results are as follows:
The Iron Bowl (87.5%) defeated NCAA Freshmen Basketball (12.5%).
The Cathedral Prep Football Team (55.4%) defeated Bryan Sienerth (44.6%).
A$AP Crew and Justin Timberlake remarkably split the vote with 28 votes apiece. And because this is our bracket and head-to-head matchups are our own construction, we're advancing both contestants into the next round.
"Gilly" (75%) defeated "Bobby D" (25%).
Snapchat (51.8%) defeated Twerking (48.2%).
The Chive (66.1%) defeated Candy Crush (33.9%).
Jennifer Lawrence (69.6%) defeated Superhero Movies (30.4%)
Mrs. Kim (66.1%) defeated Shaun Evans/Shevans 2400 (33.9%)
_______________________________________________________________
As every year draws to a close, lists are made up that claim to determine who or what was the best in the previous 365 days. There are the classic "Best Movie" and "Best Album" lists, but The Rambler wanted to do something more. The staff of The Rambler wanted an all-inclusive list to determine who or what had the absolute best 2013. Originally, it was thought this was a task that could be completed by a few aspiring young writers, but as the argument of "Who won 2013?" was opened to the full staff, said young writers soon realized that, due to many different opinions, it would be beneficial and very entertaining to open the argument up to the entire school.
"Competitors" were selected that we thought had a successful year. In an attempt to better organize this competition, those entrants selected were categorized into four groups: music, sports, phenomena, and miscellaneous. To keep it interesting, there are competitors that had big years on a national scale as well as competitors that are local and found success here at Prep. The biggest criteria we ask that you think about when determining which competitors had a better 2013 is which was more significant during 2013 alone; please try to ignore anything that the competitor may or may not have had going for them in 2012 or before. All 16 nominees getting the nod to participate in this year's end-of-the-year bracket could easily win, but there can only be one winner. We are asking you to sit back, relax, and tell us who you think won 2013. May the best nominee win.
Over the final four days of school before Christmas break, we will open the polls to you to vote the winners in pairings from the original 16 down to the eventual champion. Check back daily to vote in the next round.
The Nominees
NCAA Freshmen Basketball Class
This year's NCAA freshmen basketball class is headlined by two future NBA studs. Andrew Wiggins (Kansas guard) and Jabari Parker (Duke forward) are the next best thing in college basketball and in the NBA. There were high hopes coming into the season, and both of these young studs have delivered. The surprise freshman has been Julius Randle (Kentucky forward). Wiggins is averaging 15.9 points, 5.9 rebounds, and 1.2 assists per game. Parker is averaging 22.1 points, 7.8 rebounds, and 1.8 assists per game. Randle is averaging 17.2 points, 11.4 rebounds, and 2.0 assists per game. It is safe to say the ceiling is high for these young men, and hopefully they will excite fans for years to come at the next level.
Iron Bowl
Nov. 30, 2013, shaped the BCS and college football landscape entirely when the Auburn Tigers defeated the mighty Crimson Tide of Alabama in an epic football game that ended with quite possibly the greatest ending of any college football game ever. It should be considered the best of 2013 for just the historical significance this game had and could lead to in the future. This back and forth contest featured the number one ranked and defending BCS champion Alabama team going against archrival Auburn who just happened to be ranked number four in the country. With time expiring, Alabama was driving down the field to try to attempt a last second field goal to win the game and secure the SEC West and a spot in the SEC title game. The Crimson Tide made it down to the 40-yard line, and much to the dismay of the Auburn faithful, had 0:01 left on the clock. Alabama, who had previously missed three field goals, lined up for the 57-yard try. Adam Griffith went out and did not have the leg to power it through the uprights. Although he missed the kick, Auburn had a punt returner by the name of Chris Davis awaiting the try. Davis retrieved the kick and proceeded to run back the kick 100 yards to secure the victory for the Tigers by the score of 34-28, giving them the aforementioned SEC West title and spot in the SEC championship game. This game was one of the best college football games of all time and has to be put in the greatest game of the decade talk. I think the choice for best of 2013 is easy here. I do not think you have to look any further than this battle of hated rivals in Auburn and Alabama.
Cathedral Prep Football Team
The 2013 Cathedral Prep football team had many great accomplishments this year. This year's team pleasantly surprised many fans and so-called experts with how far they advanced in the playoffs this year, only to fall seconds short of an opportunity to defend their state title in Hershey. Not only that, but the football team set a record in the Erie area for most consecutive wins. The Ramblers ended their streak at 28 wins in a row. Most of these 28 wins came with ease as the Ramblers blew out almost every single one of their opponents. This year's team averaged around 50 points per game this year. If that is not impressive, then I do not know what is. The football team did not win it all this year, but they do deserve recognition for the feats that they have accomplished. They deserve to win.
Bryan Sienerth
Bryan Sienerth is Mr. 2013. This past year he has been dominating his current hockey league, putting up career high numbers and becoming the star on the team. Not only has he been tearing up his own league, but in spring he was drafted to the South Dakota Sioux Falls USHL team, which is considered by many as one step below the NHL. On top of all of this, he has recently verbally committed to the current number 8 team in the nation, Miami of Ohio, for the 2016 season. This has been Bryan's year and he deserves to win the title of Mr. 2013.
Justin Timberlake
Two words and two numbers: The 20/20 Experience. Justin Timberlake hasn't brought it like this since 2006 when he brought "SexyBack," one of his many hit singles. 2013 was a busy year for JT; he came out with his first album in seven years and another one a few months later, both of which were number one at one point this year. He also performed at various award ceremonies, had gigs at the White House, performed during Super Bowl weekend (better than last time if you ask Mrs. Jackson) and went on tour with Jay-Z. Timberlake also hosted SNL and received an Emmy nomination for it. Plus, my favorite, he reunited with 'NSYNC at the VMAs this year. I'm not trying to have "Tunnel Vision," but let's just say he was on his "Suit and Tie," and when he looks in the "Mirrors" he can say to himself, "I "TKO'd" the competition this year. I'm gonna "Take Back the Night" because I should win everyone's end-of-the-year bracket and get my "Holy Grail."  The point is, Timberlake had a very busy workload this year, and he executed each one to the highest degree of performance. "Cry Me A River" if you don't want JT to win. "Ain't No Doubt About It" he should win. If this doesn't help his case that he should win 2013, I don't know what will.
A$AP Crew
A$AP Crew is the truth. Building on the acclaim garnered for member Rocky's mixtape Live.Love.A$AP, the collective spent the year reestablishing the necessary dominance of New York rap, revolutionizing old ideas with new sounds. Rocky and second banana A$AP Ferg both released very good records this year, Long.Live.A$AP and Trap Lord, respectively. The whole crew slayed at the BET Cyphers and is primed in the year to come to really solidify their control over East Coast rap. Then, the world.
Bryan "Gilly" Gildone
Picture yourself walking throughout the hallowed halls of Cathedral Preparatory School. You look up to see a well-built, scruffy-faced, hearty Italian man dropping nasty rhymes on fools. Who is this mysterious Italion stallion with chest hair that would leave even David Hasslehoff himself jealous, you ask? Why, it is none other than our beloved senior Bryan "Gilly" Gildone. Gilly has been making music since freshman year and has most likely been writing rhymes for the better part of his life. He has earned the respect of Prep students and a vast variety of other kids who have enjoyed his constant bars. A couple of his songs include "Brooklyn Zoo Remix" and "Mandible ft. CC." Gilly has proved his cleverness with lines such as "I make it spooky B / hope you wore your rosary / the boogeyman check under the bed for me before he goes to sleep" and "I'm swerving lanes of you lames in the game. This that a-bomb, napalm, Gilly spit flames." Gilly also has a mixtape dropping soon titled Boom Bap and Real Rap, and I know it's not going to disappoint. This is why Gilly should win "Best of 2013."
Bobby "Bobby D" Dugan
I went around the school to find the biggest Bobby D fans. I talked to Mr. Scharrer, and all he had to say was "I want that Ohio kid." He was talking about either Gilly or Kid Cudi, but I think he got his states mixed up. Bobby D is the best rapper at the school. He is super rad.
Twerking
Twerking is a type of dancing in which the dancer dances to popular music in a provocative manner. It involves thrusting hip movements, and a low, squatting stance. The term "twerking" is of uncertain origin, although common assumptions include a contraction of the words "twist" and "jerk". Since the beginning of 2013, twerking has been widely associated with modern hip hop culture in the United States, as well as many celebrities, incuding Miley Cyrus and Nicki Minaj.
Snapchat
Snapchat was introduced to users in the second half of 2012 but has experienced continued success through 2013. The app, available both in the Android and Apple app stores, is a messaging device that allows users to converse through images alone, but most notably, images of themselves. The pictures that are sent are deleted after a maximum of ten seconds. Some say the company has a large database of all snaps ever sent, though this is pure speculation. Nonetheless, be careful with what it is that you do snap, as you never know what snap of yours may receive the screenshot treatment. Snapchat looks to continue to be very popular through 2014, and the company's decision to turn down a $3 billion offer from Facebook in November is indicative of this.
The Chive
I think we all know about the app that raided the school last year known as The Chive. Its popularity remains in 2013. The Chive is an app (and website) in which you are able to look at pictures of anything, usually of something funny. Everyone at Prep should know what Chive is because there are pictures of everything for everyone. Chive is the answer to everything. Downtime between classes? Chive. Bored in class? Chive. Sick of that game you're playing? Chive. So therefore I think we can all agree that Chive takes the award for "Best of 2013."
Candy Crush
Candy Crush Saga certainly is the app of the year. Just by looking at the App Store charts, Candy Crush is almost always within the top 10, and it never budges from the first spot on top grossing apps. While Snapchat had its time on the top of the charts—for iPhones only may I add, not iPads—its initial "wow" factor has worn off, it and has become just another app that we use sometimes. I don't think I have ever seen Chive at the top of App Store rankings, so I would say that speaks for itself. Candy Crush is also one of the best apps at pushing out updates with more and more levels being added every month. There are always new levels to play, and the feeling that you get when you finally beat the level that has been holding you down can barely compare to the feeling any other game gives you when you beat a level. There is no doubt that the app that took over the world this year, and will most likely continue to encapsulate iOS users into 2014, is Candy Crush Saga.
Jennifer Lawrence
The Tribute from District 12 is on every man's mind nowadays. She is the woman all the boys want to marry. She is the actress all directors want in Hollywood. She has survived The Hunger Games not once but twice. Jennifer Lawrence is not a supermodel with the stereotypical long legs, perfect smile, and skinny waist. This is why many guys find her perfect. She is attractive, and she has won the hearts of men of all ages with her looks, attitude, and personality. She can pull off blonde hair, brown hair, probably even purple hair. She does her own thing, and she does not follow the guidelines of how an "actress" should look. Additionally, Lawrence is a hot commodity for all movies lately because she is a phenomenal actress and draws attention anywhere she is. Although she broke out in 2012, 2013's Catching Fire, the latest addition in the Hunger Games series, and American Hustle, an Academy Award nominee, have been her best performances yet. She has captured the eyes of many in her films, and these films create a landmark statement as to why she deserves the award of best of 2013. And if she doesn't win, be careful because Katniss does not miss.
Superhero Movies
We have had a good year in the world of superheroes with movie titles being released periodically throughout the year. Titles such as The Man of Steel, Wolverine, and even Thor 2 drew the attention of all of the superhero fans dotted around the globe. With powers ranging from the ability to fly to wielding magic hammers, what else could be better in Hollywood? Nothing sticks out like a good superhero, and this year the business had a great number of heroes off to save the world again!
Shaun Evans (Shevans 2400)
The most amazing thing that happened in 2013 was Prep senior Shaun Evans scoring a perfect 2400 on the SATs. This is so incredible because out of the 1.66 million students who took the SAT this year, only 494 of them scored a perfect 2400. That means only 0.03 percent of test takers scored perfect. What is even more commendable is the way in which Evans handled this accomplishment. Shaun is a very humble person, and this was evident after his perfect score. He refused to brag about this amazing feat and instead shared the reasons for his success so that other aspiring students could perform well on the test. This was a truly amazing moment in the life of a brilliant and honorable student.
Mrs. Kim
With the beginning of the 2013-2014 school year came the question of who would replace Mrs. McKean. That answer was found in Mrs. Kim. While reaching the status of Mrs. McKean is a process that will no doubt take more than a few semesters, Mrs. Kim may be well on her way. Arriving at Prep from Fairview, Mrs. Kim possesses both the professional prowess required to be an excellent teacher as well as the personality to connect with students. Mrs. Kim has already made multiple appearances at numerous a Prep sporting events and has fully embraced Rambler Mania.