MLB Preview: American League East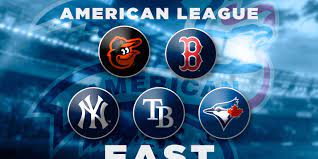 While Punxsutawney Phil may have said six more weeks of winter, the better way to tell if spring is coming is when opening day of baseball arrives. March 30 brings the best of the best back to the forefront. This year new rules changes have been enacted to make the game more entertaining. Some examples of the new rules are the pitch clock, expanding the size of bases, and the ban of the shift. These changes hope to make the game faster pace and bring in new viewers to grow the popularity of the sport. The first division to discuss is the American League East, arguably the hardest division in baseball. Last year four of five teams had more wins than losses and three of five made the playoffs.
Baltimore Orioles
Good News: Last year the Orioles were the darlings of MLB. Their record went from 52-110 in the 2021 season to 83-79. While many are predicting regression from the team, there are many positives to look forward to. First, according to most major projections, including MLB pipeline, the Orioles have the best farm system in baseball. With Grayson Rodriguez, Gunnar Henderson, and the first overall pick in last year's draft Jackson Holliday poised to make a difference at the big league level. Not only is the farm system strong, but the young talent already on the roster is something to get excited about. Adley Rutschman finished second in American League Rookie of the Year voting last season and other young talent such as Cedric Mullins and Ryan Mountcastle have already established themselves at the major league level. Overall, the Orioles may be a few years away from genuine contention but with the talent they have in prospects and players means they have a real shot to challenge for a wild card spot.
Concerns: One concern the Orioles can have is starting pitching. While top prospect Grayson Rodriguez is set to come up to the majors this year, the returning starters do not move the needle for most. Only two or five starters last year managed a FIP (Fielding Independent Pitching) of under 4.00. With much of their pitching being older than the rest of their team it could be hard for the team to sustain success if they cannot stay consistent on the mound.
Player to Watch: Adley Rutschman
He sported a 5.2 WAR in only 113 games last season. Now with a year of experience he could be challenging for the title of best catcher in the league.
Boston Red Sox
Good news: The good news for the Red Sox is that the off-season is over. They locked up star third baseman Rafael Devers to a 10 year, 313.5 million dollar contract this offseason which was a good deal for the team. They also signed Masataka Yoshida from Japan who Fangraphs predicts to have the highest on base percentage in the entire MLB. They also signed former Cy Young winner, Corey Kluber to try and help their starting rotation. They also are some nice veteran signings with Justin Turner and Kenley Jansen to bolster the infield and bullpen. Overall, there are some exciting contracts on the team, but this year it was more about what the Red Sox did not do.
Concerns: Oh boy, where do I start. The starting pitching is a mess, Chris Sale is an ace but coming off a few season of major injuries there has to be concern about his durability. While he is the number one the rest of the starters do not look to fare much better. James Paxton, another signing, already has gotten injured in spring training. Thy lost Nathan Eovaldi, Michael Wacha, and Rich Hill to free agency. They return Nick Pivetta who rocked a 4.67 ERA last season but all in all the pitching seems to be a mess. Then the infield has major issues as they failed to resign star shortstop Xander Bogaerts who left for San Diego and last seasons big addition Trevor Story has an elbow injury. This team seems to be a mess, and I am not sure what the plan is but there is still a lot of talent on the team so if everything goes well they could be competing for a wild card berth.
Player to Watch: Mastaka Yoshida
Many projections are very high on the outfielder who is also representing Japan in the World Baseball Classic. Expect a high on base percentage and a decent amount of power from his bat.
New York Yankees
The Good: First and foremost they resigned the reigning American League MVP Aaron Judge which was a major question heading into the offseason. Another great addition they made was signing star pitcher Carlos Rodon from the Giants. Another big addition that could be made comes in the form of prospects. The big name is Anthony Volpe who has a 60 grade FV or future value and comes in the top 5 of most overall prospect names. Other interesting names to watch is Jasson Dominguez and Oswald Peraza the latter of which played in the MLB this past year. With a great rotation and solid lineup the Yankees hope to repeat their first half success and hopefully put up a better challenge in the playoffs.
Concerns: While their lineup is solid there are some positional concerns. Shortstop is something many Yankees fans complain about as they do not feel Isaiah Kiner-Falefa is the man for the job. Last year many at bats at third base went to a 37-year-old Josh Donaldson who is set to continue starting. Then the big concern is left field where Aaron Hicks and Oswald Peraza are expected to compete for at bats. Overall, the bottom of the lineup looks like it could harm this teams ceiling.
Player to Watch: Carlos Rodon
The Yankees big offseason addition looks primed to add to the strength of the rotation. He signed a 6-year, 160 million dollar contract after his 140 ERA+ for the Giants last season and looks to continue his high level pitching.
Tampa Bay Rays
The Good: The Rays are going to Ray. This offseason they spent more then they usually do signing Zach Eflin to a 3-year contract worth 40 million. They will probably work their magic on him and make him a Cy Young a contender with their brilliant pitching development. They also extended Yandy Diaz for cheap, returned Wander Franco from injury, and boast a strong starting pitching rotation including Shane McClanahan. Not to forgot they bring back almost everyone from a bullpen that finished second in ERA in the MLB. Overall, with strong pitching and a solid lineup they will look to use their smart front office and coaching in order to make the playoffs again.
Concerns: Injuries are always a concern with the Rays. Tyler Glasnow already is out 6 to 8 weeks with an oblique injury which hurts the upside of their rotation. They also lack a lot of upside offensively with not a lot of power in the lineup. They also lack hitting depth after the starting lineup their bench severely drops off. Overall, they should be nervous about injuries everywhere except the bullpen where they are stacked.
Player to Watch: Wander Franco
After a strong opening campaign last year was marred by injuries for Wander. The former number one overall prospect in baseball looks to recover the form he found in 2021 with a 127 OPS + during the season.
Toronto Blue Jays
The Good: The Blue Jays are definitely in win-now mode. They made a few moves this offseason in order to maximize their potential. They traded Lourdes Gurriel Jr. and star catching prospect Gabriel Moreno to the diamondbacks for Daulton Varsho. This gives them some help defensively in the outfield while also adding a ,sorely needed, above average left handed bat to the lineup. With an infield consisting of Vladimir Guerrero Jr, Bo Bichette, Matt Chapman, and most likely Santiago Espinal they project to have strong defense and a solid lineup. Over recent years the blue jays have also invested in pitching which has created a strong rotation including Kevin Gausman, Alex Manoah, Jose Berrios, and new signing Chris Bassitt. They are paying a heavy price at this point but with such a strong team they are in contention to win it all.
Concerns: On paper there is not much to be concerned about with this team. They have a lineup that last year only had two players that were below average hitters. That seems to be about the same as they traded one away but also added Varsho. The pitching is strong but after a bad season by Berrios and Kikuchi the depth may be a question. Their bullpen seems to be strong after a few trades last year but e season is new so regression is a possibility. The main concern would probably be that they start similar to last year which was slowly. While they finished with 92 wins they had a rough start when many predicted them to win the World Series. They also lost in the wild card round to the Mariners after blowing a big lead in game 2. So the concern would be for all they invested it does not pay off and as a result do not live up to expectations.
Player to Watch: Daulton Varsho
He has been mentioned a few times but he was the major addition to the blue jays. Last year he posted a 4.9 war playing for the Diamondbacks and he looks to replicate that success in a stacked Blue Jays lineup.