Prep water polo has strong showing in Ohio Cup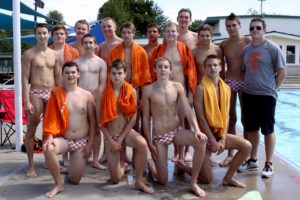 The Cathedral Prep water polo team took a road trip this past weekend to Columbus, Ohio, for the Ohio Cup. The tournament began on Saturday, and facing new teams from Ohio, the players and coaches were not sure what they were up against. The first game was against St. Charles, who was apparently the best team in the state. It was a close game, but the Ramblers took the victory 13-11.Prep was led by Daniel Bauman who had 6 goals. Tony Squeglia had a hat trick while Calvin Behm and Rex Riley each scored twice.
The following game was against Milford. They were not as good as most teams Prep faced, so the players got some rest, and an easy 13-3 win. The next and final game of the day vs. St. Francis was pretty worry-free, knowing they had already been beaten by St. Charles. The teams winning streak continued with a 15-5 win against St. Francis. Daniel Bauman and Rex Riley had 4 goals apiece. Tony Squeglia found the mesh 3 times while Tom Squeglia netted 2 goals. At the end of the day, the Ramblers were 7-0 for the season, and ready for the championship on Sunday.
The first game of the championship was against Pennsylvania's own North Allegheny Tigers, who also performed well the previous day. They came with a vengeance after Prep had defeated them the previous weekend at the McDowell Cup. The Ramblers took them down again with a 15-11 win. Tom Squeglia led the way with 4 goals. Calvin Behm, Rex Riley, and Tony Squeglia all had hat tricks while Daniel Bauman scored twice.
With the morning victory, Prep rambled on to the next round of the championship against Ann Arbor Huron, from Michigan. The team was very aggressive, and massive in size compared to the players from Prep, and Prep was not expected to win. They were very intimidating, but their aggressiveness ended up working against them. The enemy players were frequently kicked out of the game, leading to many man-ups, two good players permanently removed from the game, and easy goals for the Ramblers. The final buzzer rang at 13-7, moving Prep to the final round of the tournament. Daniel Bauman had 7 goals, Tony Squeglia 3.
Going into the final game against Chicago Park, the players were physically and mentally exhausted. This team, unlike the previous team, was actually skillful. The team was down at the half, with a score of 5-2. There was much more scoring throughout the second half, and it almost seemed like the Ramblers could come back, but there just wasn't enough time. Prep polo experienced their first loss with a score of 14-10. They still placed second in the tournament, so the coaches and players were not all too disappointed.
Thanks to the official Prep-Villa website for scoring recaps.