DeAngelo Malone: Beast in the Backfield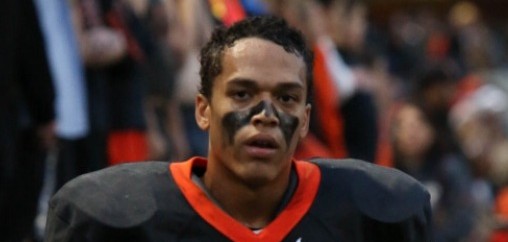 DeAngelo Malone is becoming the go-to player for the Cathedral Prep football team. The senior running back stands at 5'10" and weighs 178 pounds, but his toughness is immeasurable.  Number 25 for the orange and black never fails to please the crowd. Every time he touches the ball, someone better have the camera rolling. His impressive start to the season has gotten the attention of his coaches, teammates, and anyone who has made it to a Prep football game or has watched game film on the Ramblers.
Malone has received 32 touches and has rushed for 232 yards in the first three wins for the Ramblers. He has 6 rushing touchdowns with his longest run being 60 yards. On the receiving end he has 3 receptions for a total of 60 yards and a touchdown. DeA
ngelo has scored more points than the Ramblers defense has allowed.
This past Friday, the Ramblers squared off with McDowell, their cross town rivals. Malone was a huge factor in the exciting and competitive win. He rushed for 122 yards and 2 touchdowns. His first touchdown exhibited his quickness to get to the outside, and his cutting ability, like NFL star LeSean McCoy.

He battled with painful cramps in the second half, but his pure determination kept him going. As the Ramblers felt the momentum swing their way, Malone got the Prep faithful out of the seats and celebrating when he took a handoff to the outside and broke it loose for a 60-yard touchdown.

When asked about his thoughts on his and the team's performance DeAngelo said, "It was a great hard fought win. I couldn't do it without my teammates help. Those guys are the reason I make the plays I do. It's senior year, and to come out and play the way we did in the second half feels amazing." Prep won the game by a score of 24-10.
Malone has been the breakout player so far, and everyone anticipates him to improve on his stellar start. The Ramblers look to have another undefeated season and make a run at a state championship. DeAngelo will be a key component to completing their goal this year.