*Spoiler Alert* The Hobbit: Battle of Five Armies movie review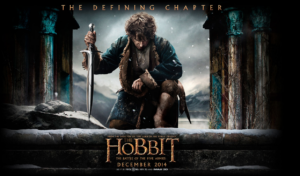 Warning! This review contains spoilers, so if you have not yet seen The Hobbit: Battle of Five Armies and don't want to know what happens, stop reading now.
The movie was two hours and thirty minutes of pure excitement. For The Lord of the Rings fans, this movie is the perfect end to the trilogy, and to the whole series. It is also the one movie that puts everything into place for the first movie of the trilogy, The Fellowship of the Ring.
One of the things that did not go in favor with the movie is how it focused too much on Thorin, the Dwarf king. From the first movie, we are able to tell that he will have a struggle with the treasures in the castle, as well as the King's Jewel. They did not need to spend so much time on it, just because we expected it and wanted more wicked fight scenes.
Another aspect that the movie lacked is how it did not show how all of those events directly added up to the first three movies. It shows how Legolas will follow a strider, which if you have not already guessed, it's Aragon. It also reveals how Bilbo Baggins is brought back to the Shire with the ring, and the first time Gandalf visited him from the first movie. As a true Lord of the Rings fan, I am not completely satisfied with how all those unsolved mysteries add up in the movie series.
On a positive note, you would have to admit that the movie directors have done well with the special effects and the animations. One of my favorite scenes of the movie is when Legolas takes on about a dozen enemies alongside the leader's right hand. It shows how strong he is and how much the fate of everyone else would be doomed without him.
The sad thing is now we are not expecting another movie in this amazing movie series. It is the end of it. Our only choice now is to own all of the movies and watch them all in one day.