Senior Class President reflects on the Senior Banquet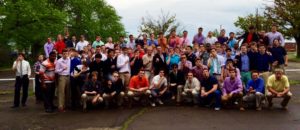 As the number of days left in the 2014-2015 school year nears zero, the Cathedral Prep Class of 2015 has been preparing for graduation and partaking in all of the customary senior events. One such event, which took place this past Monday, was the Senior Banquet. A rite of passage, the Senior Banquet is a dress-casual event for the entire class to share a meal together, reflect briefly on the past four years before all of the chaos of graduation, and enjoy ceremonial cigars in the student parking lot. (Although the last part has been a trademark of the event for years, it is not officially recognized by the school administration).
After a delicious meal and a slideshow, all of the seniors spilled out of Prep and rushed to the student lot, where festivities started promptly. Sweet smells filled the air, as the group of inexperienced smokers broke out their brand new cigars and began to light them. Music played from several cars, but it was mostly faded out by the buzz of excited conversation from the Ramblers.
When I arrived at the student lot, I stepped out of my car, lit my cigar, and walked over to the large cluster of classmates gathered in the middle of the lot. Upon meeting my classmates, I was amazed at the almost quixotic aura surrounding the group. It seemed that the smoke of the cigars healed all divisions held prior to the event. There were no exclusive social groups in the lot; it was one class—brothers in unity. No one was worried about anything other than having a good time with his fellow classmates.
One sensation I vividly remember experiencing, among the numerous photo ops, conversation, and laughter, was simple satisfaction. I made it, and my brothers made it with me. As Sebastian Junger said, "The only thing that makes battle psychologically tolerable is the brotherhood among soldiers. You need each other to get by." High school was a battle at times, and it truly pushed me to the outer boundaries of what I am capable of, but I had my classmates by my side every step of the way.
Now, nearing graduation, I am constantly reminded that my time with these guys, that I have spent the past four years with, is dwindling. On June 7, we're going to graduate, and our time as students at Cathedral Prep will be finished. As bittersweet as graduation is, I know that my brothers and I will carry our experiences and fond memories from this chapter of our lives on to the next one, which will be starting very soon; Prep will always remain a central part of who we are.
The cigar was something I had been looking forward to for my whole high school career, and it was everything that I had hoped for.