Book Review: David Ewalt's Of Dice and Men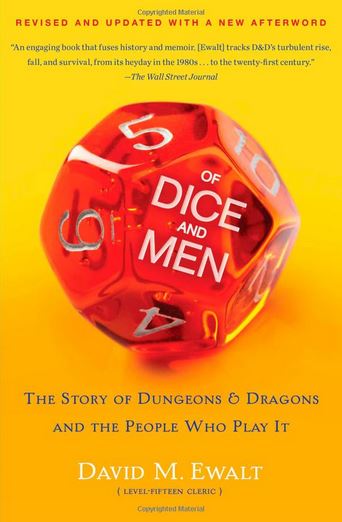 If you like Dungeons & Dragons and have a desire to learn about its history then this book is definitely for you. Of Dice and Men takes an investigative journalistic approach to the history of the ever popular board game Dungeons & Dragons. The author, David Ewalt, chronicles his own personal experiences with the game along with the historical facts regarding the game's creation and propagation. The two separate narratives wind together in a fantastic way, making for a much more in depth narrative on the subject at hand.
As a reader, you get to feel the struggle of David as he looks for the history and his revelations as well as feeling the struggles of the creators, Gary Gygax and David Arneson. From a historical standpoint this novel is incredible. Everything feels very well researched, and everything flows incredibly well. Even those who don't actively play Dungeons & Dragons or know anything about the terminology or "nerd speak" can feel included. Every time something of the like comes up, Ewalt defines in a way that everyone can understand.
As a disclaimer, this novel is not a way to teach someone how to play Dungeons & Dragons. Rather it is a historical retelling of the game's development and view in the eyes of pop culture. Again, it is not a tool for teaching someone how to play.
Of Mice and Men is a fantastic novel with an interesting narrative structure and a well developed and researched historical retelling, I would suggest it to anyone who is interested to take a read and enjoy.