Rambler water polo goes 1-2 in weekend's Erie Challenge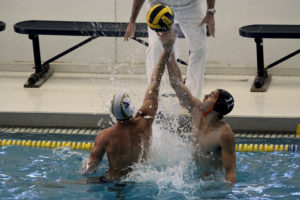 This past weekend, Cathedral Prep's water polo team for the first time hosted their own tournament, The Erie Challenge. The weekend started with JV games on Friday night at McDowell. The promising JV team first took on their rivals, the McDowell Trojans. The Trojans seemed as though they could put up a fight in the early moments of the game, but they were quickly shut down. With McDowell far behind in goals, the newer players got plenty of playtime. Obviously, the Trojans were crushed by the Ramblers.
In a double header, the Prep JV squad then. played Wilson High School, who proved to be a more challenging opponent. The Ramblers came out looking strong, but as the game went on, the defense let up, and the score was tied 4-4 before the last quarter. In the end, the Wilson JV took down the Prep JV team 5-4.
The next day, the Ramblers headed out for three games at Penn State Behrend. The team's first match was against Wilson High School. With an 8:45 a.m. start time, the Ramblers came out sluggish and groggy and were not able to preform to their standard abilities. By the time they got their heads in the game, it was too late and they were defeated 15-7 by Wilson.
With somber attitudes, the team returned to once again face the reigning state champions, North Allegheny, who they had beaten just two weeks before. Once again, not seeming to have their heads in the game, the team just could not stop their talented opposition and went through an agonizing loss of 17-9.
At the final game of the tournament, the Ramblers played their long-time rivals, the McDowell Trojans. As they had earlier in the day, the Ramblers came out weakly to start. McDowell may have been thinking they had a shot at victory, but their dreams were quickly destroyed. Six goals came from captain Zach Miller, 3 from Daniel Bauman, and 11 more from Anthony Paolella, Steve Bretz, Joe Marin, Tom Squeglia, Scotty Garich, Davis Nies, Rex Riley, and Connor Van Hove.
Despite the victory of 20-8 over the Trojans, the team really needs tofocus on their mistakes. North Allegheny came to this tournament with one goal: Prove that they are still the best team in the state. After the results of the weekend, they must think they are. Despite this, NA and Wilson need to know one thing: this weekend was a minor setback for the Cathedral Prep water polo team, but they still have their sights set on winning the state title.