Mr. Peightal honored at PTR International Tennis Symposium
Do you think you're good at tennis? Well, you're probably not as good Mr. Kent Peightal, who teaches senior English at Cathedral Prep. Peightal was recently honored at the PTR International Tennis Symposium in Hilton Head, South Carolina. This four day event was hosted in honor of the PTR's 40th anniversary. Peightal has been a member since this organization was founded in 1976.
The PTR or the Professional Tennis Registry is an organization full of professional tennis teachers that are located all around the world. The PTR has approximately 16,000 teaching pros in 127 different countries. At the event there were 45 different countries that were represented.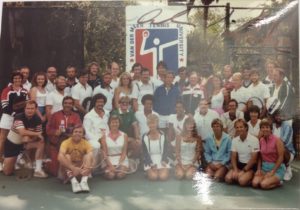 Peightal has been a member of this organization for all 40 years that it has existed. He is a professional teacher of tennis and a national tester. As a professional teacher he teaches people the sport of tennis, and as a national tester he is able to sanction candidates as professional teachers. Peightal has received a service award for 40 years of being a charter member and for his service toward the organization.
At the event, Peightal met up with his long lost friend after 41 years, Billie Jean King. Billie Jean King was the world's former number one ranked women's tennis player. She won 39 Grand Slam titles during her career. Originally, Peightal and King met in 1975 in Erie when they opened the Billie Jean King Tennis Center. This center is now referred to the Pennbriar. While in Erie, she had the chance to practice and play against Peightal, who is a legend in his own right.


The Rambler spoke with Mr. Peightal about his experience in South Carolina. When asked about Billie Jean King he had a lot to say, "It was amazing that after 41 years she remembers my first name." He also spoke about talking to her again saying, "When I spoke with her we talked of the past when we played tennis together and of the honor she was receiving."
Peightal enjoys being a part of this organization saying, "The PTR is the best organization I've ever been involved with, in terms of the effect that it has on the entire world." He described his experience in just a few words, saying, "The time I spent there was a once in a lifetime opportunity."
Peightal is proud to be a member of the PTR. If you see him in the halls of Prep make sure you congratulate him on the great work he's done and his amazing accomplishment.