2016 NHL Playoffs Preview
It is hockey fans' favorite time of year. The chase for the Stanley Cup is finally on, with more surprises than many fans had expected preseason. The brackets are set, and both conferences look primed to provide fans with some entertaining playoff hockey, which began last night.
The playoff format has a slightly different setup than in previous years. While there are still 16 teams in the playoffs, the playoff bracket is largely division-based.
The top three teams in each division make up the first 12 teams in the playoffs. The remaining four spots were filled by the next two highest-placed finishers in each conference, based on regular-season record and regardless of division.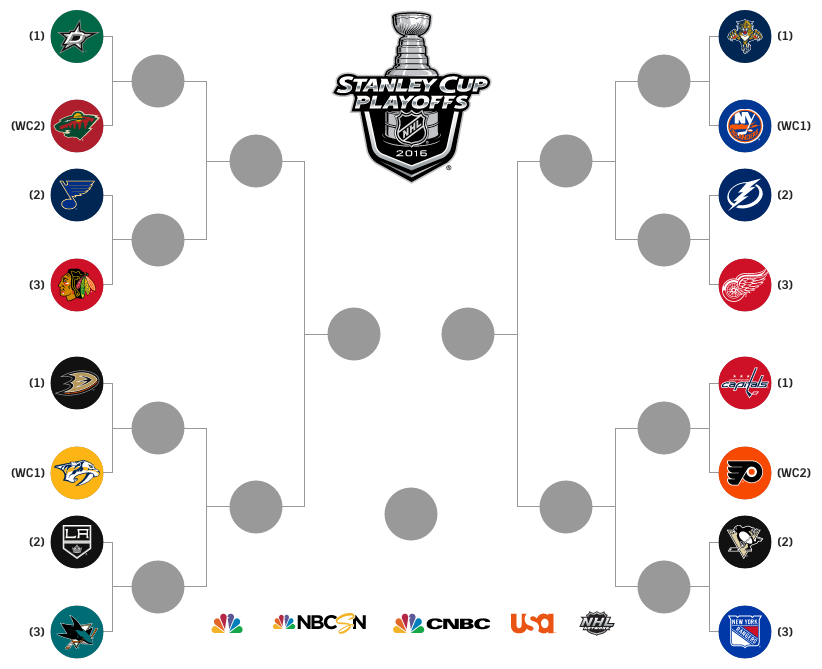 The Eastern Conference surprised many with teams like the Boston Bruins, Montreal Canadiens, and Ottawa Senators all missing the playoffs. The Washington Capitals grabbed the number one seed and the presidents trophy for best record in the entire NHL. Their free agent acquisitions like TJ Oshie appear to be paying dividends as they look primed for a long run. Perhaps one of the biggest surprises is the Pittsburgh Penguins grabbing the 2 seed. After a slow start, the team turned it on, as Sidney Crosby began producing as well as the rest of the Penguins depth, even after injures began taking their toll.
My sleeper team to make a run at the title is the Tampa Bay Lightning. They proved they have what it takes to make it to the Stanley Cup last year and if a few players could get healthy they look dangerous. My favorite to come out of the East is Washington Capitals. Their combination of scoring and great goaltending from Braden Holtby leaves them in a good position to make a run.
Eastern Conference Finals prediction: Washington over Detroit in 6 games
The Western Conference was more typical this year as many teams that made the playoffs were favorites early on. Dallas grabbed the number one overall seed, which was no surprise with scoring threats Jamie Benn and Tyler Seguin. Hopefully they can finally pull it together on the defensive end and make a run. The Anaheim Ducks were a huge surprise after a slow start to the season. Scoring appeared to be a huge issue until finally catching their strides midway through the year and not looking back.
My favorite to come out of the West is the Chicago Blackhawks. This team was built for the playoffs. Great top tier scoring, good depth, stellar defense, and a solid goalie rotation bode well for the experienced team. My sleeper team is the Los Angeles Kings. Once again, it's tough to go against the experience, and Jonathan Quick is a proven stud when playoff time comes.
Western Conference Finals prediction: Chicago over Anaheim in 7 games
I project this Stanley Cup to be one of the most exciting to date. Both teams deserve to be there, but they will have gotten there in different fashions. The heart of the two teams, Patrick Kane and Alexander Ovechkin, are two of the most prolific scorers in the NHL with two completely different playing styles. This series would be an intense battle, with incredibly well matched up teams. In the end, I think the Capitals will be more motivated to win, especially Ovechkin who has yet to win his first Cup.
Stanley Cup Finals prediction: Capitals over Blackhawks in 7 games