Prep, Villa students participate in Outreach Day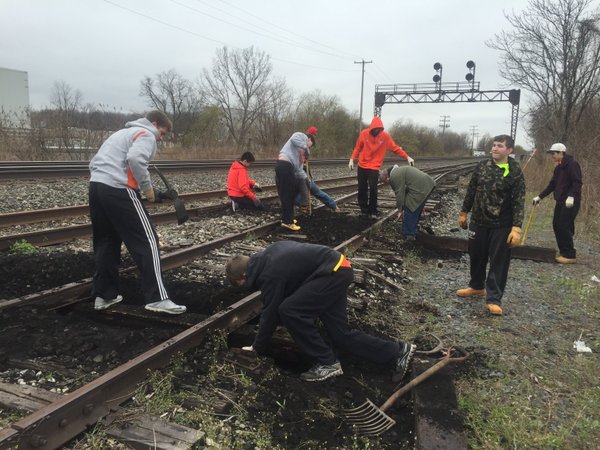 Friday, April 29, Cathedral Prep and Villa Maria Academy participated in the annual Outreach Day. This day is not a publicity stunt but rather a way for the school to focus on the Catholic value of charity. Students are divided up into groups, with one or two faculty advisors to guide them in their work. Two group meetings are held prior to the actual day in order to decide what to do and the logistics of carrying out the determined activity.
Some groups get creative with their service projects while others stick to tried-and-true projects. Mr.Achille and Mr. Czytuck's group, and Fr. Jason and Mr. Ferraro's groups cleaned up Presque Isle, picking up trash to make Erie's main tourist attraction much more aesthetically pleasing. Similarly, Mr. Pituch and Mr. Vicary's clan cleaned up Browns Farm for the same reason.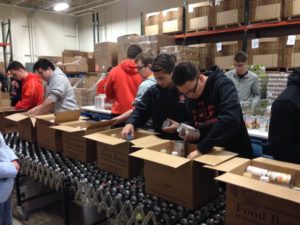 Other groups decided to make a more direct impact on underprivileged people of Erie. Fr. Mike's group met in Prep's cafeteria, and with the help of Metz, they baked several lasagnas and a big batch of cookies for Emmaus Soup Kitchen. Another group helped at Second Harvest Food Bank, where hungry families can pick up packages of food monthly.
The youth of Erie also benefited from this Outreach Day. Mr.Hubert and Mr.Parsons took Prep students to the Downtown Y making a positive influence on the area's preschoolers. Mrs. Maxson and Mrs. Lasky took their students to Creative Learning Childcare to help children learn in a fun environment.
It's sometimes a hassle to get out of bed in the morning, but at the end of Outreach Day, Prep students went home with the satisfying feeling of having helped people and making a positive difference in the world. This Outreach Day was a success to the hard work of Prep's faculty and students who carried out volunteer work for the betterment of the community.