After coming up short of a District 10 title for the second consecutive year, the Cathedral Prep golf team is looking to elevate their game to the next level this season. With plenty of talent, experience, leadership and coaches returning, many feel that is an extremely realistic goal. As the district competitions will soon be approaching, varsity captain Ryan Misko reflected on what golf means to him and the role it's had throughout his life and perhaps in his future as well.
Starting from a young age, Ryan was always very interested in golf. "It really runs in my family," Ryan said. "Ever since a young age, I've just always seemed to have a golf club in my hands." He has a rare passion and love for the game. Family played a vital role for his continued involvement with golf. "My parents golf, my grandparents golf, my brother golfs. It was just a large part of my childhood," he said. Not many people have the experience of being acclimated to something at such a young age and yet still maintain the dedication to stick with it and continue to perform at a high level.
Ryan quickly translated his early success to the high school level where he has been an integral member of the varsity golf team all four years at Prep. When asked about his coaching staff this year, Ryan said, "Coach Jay (Willow) is a great coach to have. He is very relatable and really tries to keep everyone relaxed." Ryan feels very confident this year and holds high hopes of the Ramblers retaining that beloved District 10 championship once more while also making a run at states. According to Ryan, "The most challenging part about golf is that it's all you. If you're struggling, to bad, you [have to] be able to salvage whatever you can out of the round."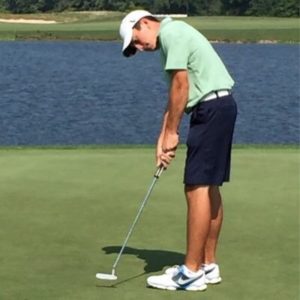 In the future, Ryan plans to target schools like Gannon University and Allegheny College to continue his golfing career at the collegiate level. He admitted it would take a lot of dedication to the game and supreme time management skills but concluded that he would happily take the chance if offered. Ryan stated that there are parts of his game he needs to improve on, however. "I need to work on my iron game more because it is an essential skill to obtain on larger courses," he said.
From a small child just learning how to hold a golf club to becoming varsity golf captain at Cathedral Prep, Ryan Misko is primed for success. With a large amount of talent and production behind him, the Ramblers should find no trouble in surpassing last year's accomplishments. All the pieces of the puzzle are laid out, they just need to put it all together. If that happens, we could all be in store for a very special season from the Cathedral Prep golf team.