Student Profile: Brian Buseck
Prep senior Brian Buseck is perhaps best known as a talented, esteemed actor in the Cathedral Prep and Villa Maria Theater Program, landing leading roles in productions such as Grease, Jesus Christ
Superstar, West Side Story, and many others. But few people know about his other side that works behind the curtain: Brian Buseck, screenwriter.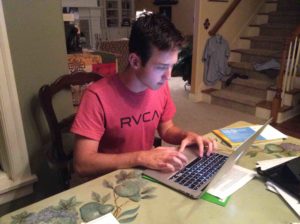 What exactly is screenwriting? According to Brian, "it is writing a script for a play, TV show, or movie. It includes writing the lines and saying which characters goes where in a piece of work." Somewhat of a newcomer, Buseck only started writing plays at the end of his junior year thanks to encouragement from one of his friends.
"Last year, my friend Dominic Montefiori came up to me and said, 'I started writing this play; do you mind taking look at it?' I said yes and asked him if I could co-write it with him. He agreed and we started working on it together."
The piece they are working on is a romantic comedy but not in the "lovey-dovey" sense. As Brian explained, it begins with a group therapy session that leads to a domestic disturbance. However, Buseck does not want to give away too much of the plot because their play along with others written by students will be shown in the spring as part of "French Fest," a two-week-long showcase that will give the Prep and Villa theater programs the opportunity to feature and show off different works created by the students themselves.

While still best known for his acting skills, his colleagues think Brian might be an even better writer. "Brian is just a natural-born writer; he has something that can't be taught which helps in so many ways," said Montefiori. "It's a lot of fun to work and write with him."
Buseck admits he is partial to writing comedy because "that's most of what I've watched…like sitcoms only longer."
While he enjoys writing, his love and passion still revolve around that of acting. "I find acting more fun because you get the excitement of performance and for me at least being in front of a live audience," explained Brian. Being at the center of attention is what makes acting exciting every time he performs.
Brian thinks that anyone can become a screenwriter and gives advice to those who want to get involved with it. "If you are interested in screenwriting, sit down and just write and you might enjoy simply that." Well, Brian certainly makes things look simple, especially when he is commanding attention while standing center stage. His passion and talent combined with hard work and practice tend to do that and audiences around the community have Buseck to thank for it.
So with that being said, join me in a round of applause and standing ovation to someone who certainly deserves the spotlight, senior Brian Buseck.