Student Profile: Alex Welz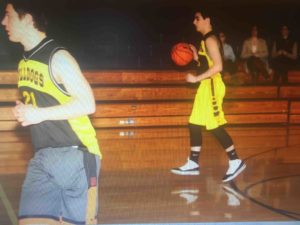 Alex Welz, junior editor of The Rambler, is currently a junior at Cathedral Prep and entering his second season of CYO basketball for Blessed Sacrament. He first learned about the church basketball league when he failed to make the freshmen basketball team at Prep. He was urged by fellow classmates to give CYO a try. He was blown away by how much fun it was and realized why it was so popular among Prep students.

After playing on Prep's JV basketball team last year, he plans to return to play CYO this year. Alex discussed how it is the perfect game for everyone since you "don't need to worry about talent. If you want to have fun and make new friends, then CYO is a great option for you."
Alex even admitted it made him a better basketball player and decided he is best fit playing CYO instead of high school basketball. He enjoys how it is more relaxed and requires less dedication compared to being a part of a high school team. Alex recalls the best game he and his team had during his freshman year against powerhouse Our Lady of Peace. He said this was his best game ever as he made "clutch free throws" down the stretch even though his team ended up losing. This is because OLP was the best CYO team Alex and many others have ever seen. They had a very dynamic team highlighted by stars Matt Falconer and Michael Douds who led them to states that year. Alex reminisced about how great of a player Matt Falconer was saying, "He could do everything on the court and was so exciting to watch."
Alex looks forward to competing for a league title this season with Blessed Sacrament. Teammate Nick Frisina echoed his sentiments affirming, "I need a new partner in crime, and I can't think of anyone better than Alex, as long as he passes me the ball." Alex thinks that he and Nick, who once played a game in swim trunks and Superman socks, will help lead the Bulldogs to a successful season. Four-year CYO expert Trey Deitrick had a different opinion proclaiming, "I feel bad for anyone that has to play St. George this season," adding, "we're a powerhouse."
Alex is always working to improve and thinks he needs to work on his new position of guard while continuing to be a great leader on and off the court for his team. He believes that a key to the team this year will be to get everyone involved, use their experience and versatility to their advantage and "compete every night" no matter who their opponent is. This is exactly the attitude Alex's role model, Tim Duncan, had every time he stepped on the floor. This CYO season should be filled with excitement as Alex and other players look to make an impact for their team.