Prep and Villa Giving Day 2016 a success
On Wednesday, Nov. 16, students from both Cathedral Prep and Villa Maria Academy demonstrated their generosity toward the school. Combined more than 700 students made contributions totaling more than $9,000. Factoring in alumni, friends, and families, $959,151 of donations came in on Wednesday, an amount that will be tripled by an anonymous donor.
In advance of Giving Day, Cathedral Prep and Villa Maria Academy students were invited once again to participate in the 3rd annual Mission Cup Challenge. The "Mission Cup" is the trophy awarded to the Prep or Villa campus with the higher percentage of student participation on Giving Day.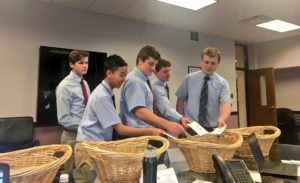 With 100 percent participation Villa Maria Academy earned the Mission Cup for the third consecutive year. As a reward the Villa students earned a day off from school and will have their campus name engraved on the Mission Cup as the 2016 champions.
A rally/assembly was held on Wednesday morning to announce what was at stake this year. The rally crew put a comedic video together of the Ramblers stealing last year's Mission Cup from Villa's trophy case. The Prep students
loved it, but it was not enough to outperform Villa's 100 percent participation in Giving Day. Students needed to donate a minimum of $5 in order to qualify toward the total active percentage.

"The idea is to have you realize the importance of giving to a charitable organization you feel is important in your lives," said Fr. Jabo, president of Prep and Villa.
In addition to the Mission Cup Challenge each school has their own individual goal. For Prep the dollar amount goal was $5,000 to earn a guaranteed day off. For Villa, the dollar amount goal was $3,000. Both goals were set based on
student population. This year 50 percent of the donations will go directly back into the class treasuries as well.