Alumni Profile: Fred Bird ('83)

Mr. Fred Bird graduated from Cathedral Preparatory School in 1983; however, he still carries his memories, experiences, and friends with him to this day. Bird was the last of four brothers to attend Prep. With his brothers setting the path before him and sharing the Prep experience with him, Bird didn't even consider going to any other high school than Prep. He still holds Prep in extremely high regards, and clearly is grateful for the education and experiences he was exposed to through Prep.
Bird's experience at Cathedral Prep was memorable to say the least. Bird can perfectly recall back to countless events, stories, and classes from his past. He states how his favorite thing about his time at Prep was the "camaraderie of his classmates and the energized time of school spirit." He backed up this claim with references to his road trips to playoff basketball games (where apparently he and 11-13 guys piled into a 1982 Chevy Malibu wagon for many of these trips), the 1980 state champion basketball team, and the undefeated 1983 football team.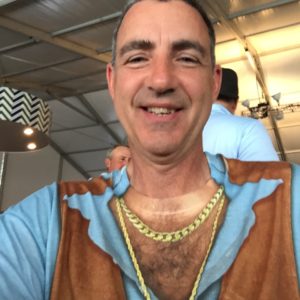 He also has other fond memories of his teachers at Prep. Bird stated that his favorite teachers were Mr. Wenrick, Mr. K, Mr. B, Mr. Scharrer, and of course Mr. Achille. Bird referenced to how exciting and fun he remembered the Prep rallies, and even stated that Mr. Wenrick would often participate in these. In fact, Bird was part of the Prep rally crew his senior year.
Although he received good grades at Prep and always tried his hardest in his classes, Bird revealed some interesting stories of trouble he got in to during his days at Prep. In one story in particular, he mentioned how he was "relentlessly interrogated by a group of teachers one Monday morning in the smokey 2nd floor teachers' lounge after Mr. Alexa's car was vandalized outside a bar that weekend." According to Bird, he and a group of his friends tried to get into a bar with fake IDs that Mr. Alexa happened to be a bouncer at. They were promptly thrown out. Later that night, Mr. Alexa's car was mysteriously vandalized. Bird promises that he didn't vandalize the car, but he admits that some of his friends from other schools that he was with that night were "trouble-makers." He later stated that although he managed to get out of the whole situation unpunished, he was under close watch the rest of the year.
Currently, Bird works in Transportation Products as a Program Manager for Rexel Corp (a distributor for GE Transportation Locomotive renewal parts). He thanks Prep for teaching him how to manage his time and get things done by a firm deadline. He says that he is still friends with many of his former Prep brothers. When asked what he notices is different about Prep today compared to his time there, Bird quickly mentioned the improvements in the sports facilities, more community outreach, and more involvement. He also mentioned how there are "more rules and scrutiny on behavior, too much media attention, and more things getting blown out of proportion." Bird loved his time at Prep, and continues to re-live his best moments alongside his lifelong friends from Prep.
Although the years have changed along with the students and teachers, it is clear that Prep still remains the brotherhood today that it was back in 1983.