Alumni Profile: John Baloga ('85)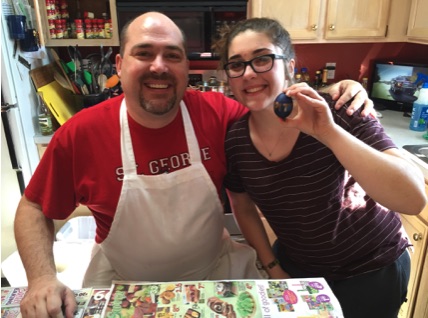 Mr. John Baloga, otherwise known as "Johnny B" to his son Luke ('17) and Luke's friends, is a proud member of the Cathedral Prep class of 1985. Baloga is chief investment officer and vice president of strategic development for Airwave Networks Incorporated. In that role he helps give out internet access and television services to college university housing. Luke and his friends really look up to him for advice sometimes. A lot of times when Luke and his buddies are chilling in the hot tub, they ask for some "life lessons from Johnny B.," which goes to show how good of a guy he really is.
When asked why he chose to come to Cathedral Prep, Baloga said "It was really the only high school I thought I'd ever go to." He also said he never even considered any place else. Basically, he was a Rambler from the start. He really loved being a part of the football team at Prep, and he also really loved the camaraderie. One thing he thought was very cool about Prep was being the "hated" school in football. In simple terms he said he loved it. Baloga also said looking back on his high school career he gained a very good education at Prep.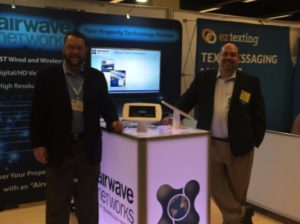 One thing that he mentioned about college after Prep was the transition to having girls in the classroom. Baloga attended the University of Pittsburgh and said he got exposed to many different things there that Prep and Erie didn't really expose him to. "It was a big city with a lot of different cultures and people," he said. At Pitt he said he felt up to par when it came to education thanks to what he learned from Prep, but he felt "a little behind culturally."
Baloga also loves having his son Luke attend Cathedral Prep. He says it is awesome and loves having someone follow in his footsteps. He also has two other children, Quincey and Dawson, who went to different high schools. Baloga is proud of all of his children and the choices they have made for high school.
Not only did Baloga play football, but he also loved playing intramural basketball and being in the ski club at Prep. Another activity he used to like to do was play buck-buck on the 10th street side of Cathedral Prep, although he and his buddies were threatened to be thrown out of school for that.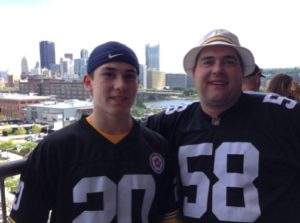 Now, in his free time he likes "to be old" is how he said he would put it. He loves watching football and playing golf. One thing Baloga also loves to do is hang out with his dogs, Olga and Rooney. Cooking is also a specialty of his, and if you've ever been to any of his 4th of July parties you would love his cooking.
All in all, Baloga is a very good guy and a true "man of Prep." He has been a mentor to many through coaching in football and being a great guy. Whether it is getting a life lesson from Johnny B, or just eating some of his food, you would most likely love this guy. His son Luke Baloga, who is now a senior of Cathedral Prep'17, looks up to him very much and so do a lot of Luke's friends. John Baloga is a proud Alumni of Cathedral Prep.