NHS Blood Drive a success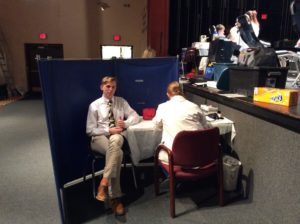 On Thursday, Jan. 12, some students decided to put their own comfort and well-being aside by donating blood to help the Community Blood Bank. Run by NHS (National Honor Society) students were given the chance to help the community and save lives.
"I think it's an incredible opportunity for these young men to help and learn the importance and impact this event has," said Mrs. Slaby who helped organize this event. "That's why we always try to hold these multiple times per year." Although 78% of the schools population was involved in a winter sport, 28 students were able to donate blood at this year's drive.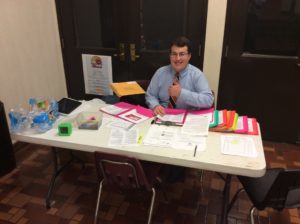 Students who may have gotten queasy or can't give blood at the time of the blood drive were happily invited to help work the sign-up sheets and front table. Rob Harris, an NHS member who helped run the lunch sign-up table with fellow classmate and member Nick Gavio talked about his experience. "Although I wasn't able to give blood this time around, I'm glad I was still able to participate, while also feeling like I helped make a difference."
This blood drive was critically important for the Community Blood Bank as they are running on a large shortage of blood at this time. The blood bank, which serves over 21 different hospitals, is a key lifeline for patients who enter through their doors. The blood is used for routine surgeries, as well as patients who have been involved in more critical accidents that require a life-saving procedure.
As vital as a resource as this is for hospitals and patients around the country, many haven't given donating blood into consideration. Only a dismal 2% of the American population has given blood at some point in their lives. "I don't think many people understand how much of a necessity this is for the general health of the public," said Dr. Steve Oljeski.


Many are detoured from donating because of fear or anxiety that comes with the procedure. On average the procedure takes only 6-8 minutes and patients are made as comfortable as possible. The chairs can be reclined as well as food, drink, and ice cold towels are provided to keep them comfortable.
"It wasn't as bad as I thought I was going to be," said Sam Purchase. "I made sure to look away and it was over before I knew it."
The Community Blood Banks visits over 40 high schools in the Erie area as well down into Cambridge Springs district to get donors to try to keep up with the demand. So if you ever have a chance to donate blood, or when the Blood Bank comes back to Prep, take a moment to think about the impact you could make on others for less than 10 minutes of your time.