Class of 2017 enjoys Senior Breakfast
The Senior Breakfast at Cathedral Prep has been a tradition for quite some time now. On Wednesday, May 17, the seniors had their Senior Breakfast. This breakfast was a time of gathering together over some solid foods to socialize, as well as a brief talk from Advancement and Father Jabo.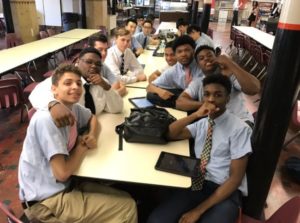 The seniors got to eat eggs, potatoes, sausage, fruit, a muffin, and a drink. The fruit bowls were a nice assortment of summer melons as well as pineapple and grapes. The potatoes were nicely browned with some chopped onions. The food seemed to be well-regarded. In fact, when asked what he thought of the Senior Breakfast food, senior Jaryn Simpson said, "I feel as though it was scrumptious and very well planned. It filled me up." Senior Mark Majewski also appreciated the meal and said, "It was good. Nice way to celebrate the seniors."
After everyone started finishing up their food, Father Jabo and the Advancement Office addressed the seniors. They both talked about the importance of donating as the years go on. They mentioned how we are lucky to have had such an opportunity and that the seniors should try to let future students have the same opportunities that they had.
On a sadder note, Father Jabo mentioned to the seniors that our time at Prep is now very limited. He said that the seniors should try to talk to everyone that they can now, considering they only have one week left. This message hit the seniors fairly hard, as they started looking around the room at some of their classmates that they might not know as well as they would like. All in all, however, the Senior Breakfast was a big success and was greatly appreciated by the senior class.