Elijah Lyons makes Prep history with PMEA award
Senior Elijah Lyons, well-known at Prep for his exceptional singing talents, was recently awarded as the seventh chair for Tenor 1 by the Pennsylvania Music Educators Association. Making Prep history, as the school's first student to ever receive this award, Elijah is virtually classified as one of the top ten high school tenor singers in the district.
When asked about being awarded the chair, Elijah said, "I feel happy about being top ten. I also feel more motivated. I wasn't actually even trying to get top ten… I was just trying to get out of school at this point. I definitely did not expect to get 7th chair out of 25. Next time, I will be trying harder than before. To be the first student awarded makes me feel like I'm setting an example, or the standard for all the other singers at prep to use as a guide. We truly are great at everything here!" 
Many may recognize Elijah from his appearance on Good Morning America back in November, when he represented the David Matthews Composition School and the YMCA of Greater Erie with his own original song. On the show, Elijah announced his acceptance into the New York Conservatory for Dramatic Arts, and was soon after presented with a $10,000 check by GMA to help pay for tuition and guide him to follow his dreams in music.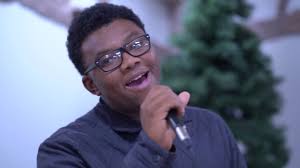 When asked what music truly means to him, Elijah joyously stated, "Music means everything to me. It's what I plan to make for the rest of my life, and I plan to live by it. Music was never just a hobby for me. It was always my life."
With a dream dedicated to the art of music, Elijah humbly mentioned his biggest inspirations and who he dedicates every performance to: "My mother and father inspire me at a great level, but most of all, I inspire myself to do everything that I do. I always tend to push my own limits, and it has made me successful so far. I plan to keep on moving forward and making my dreams come true. All of my performances are dedicated to my family and the city of Erie. I'm all for putting Erie on the map in the best way."
With family, friends, and the entire city of Erie in mind and giving him support, Elijah will be competing at the regional level. At the competition, he will fight for a spot to be ranked as one of the top five Tenor 1 vocalists in the region. If all goes well, Elijah will claim his spot at regionals, and then venture off to the state competition.