2020 CYO Season Wrap-up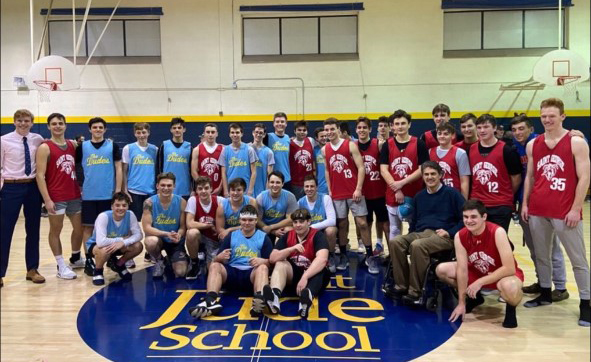 It's hard to believe another entertaining and exciting season of the Catholic Youth Organization basketball is ending shortly. To wrap up in short, the 13-1 Jude's Dudes of St. Jude had a terrific season led by Prep starters Evan Rowane, Collin Johnson, and Charles Raimondi. The regular season ended with St. Jude beating St. George for the championship.
Senior guard Tyler Darden for St. Jude was asked how it feels to be champions of the regular season, "It feels good," he said. "I think we had a great regular season. Each person on the team played a big part in the success of the season. Even though the regular season is over, the season is not over yet."
The Lancers of St. George were 10-4 this season with two tough losses against St. Pete's and St. Jude. This year the Lancers depended on shooting guard Philip Pedano to win the game with point guard Mac Dietrich, forward Justin Corsale, and center Jack Oedekoven. Since the state playoffs are in Erie this year, the Lancers get an automatic second place bid as well as the champs, St. Jude.
Oedekoven was asked if they have a chance to go far in the playoff bracket, "I do believe we can," he said. "I think the opponents will play man-to-man instead of a zone, and I think we will have a better time handling the opponent."
OLP was 8-5 this year, followed by the 7-7 Blessed Sacrament Bulldogs and then St. Pete's and St. James had two wins this year, both against the last place St. Luke's crusaders.
The state CYO tournament, which will include St. Jude and St. George from Erie, begins next Friday, Feb. 28, at Blessed Sacrament.
All-CYO 1st Team
Guards: Tyler Darden and Joseph Bucci
Forwards: Justin Corsale and Jack Foht
Center: Mitch Ruff
All-CYO 2nd Team
Guards: Collin Johnson and Mac Dietrich
Forwards: Evan Rowane and Jack Malec
Center: Jack Oedekoven