2014 NFL Mock Draft 1.0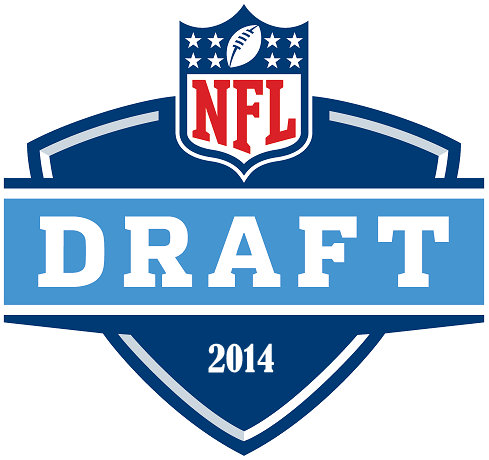 The 2014 NFL Draft doesn't take place until May 8, but with the season over, it's never too early to start projecting the draft picks. Here is our first attempt to forecast the future.
1. Houston Texans: Blake Bortles, QB
The Texans have made it clear that they are done with Matt Schaub. They have also made it clear they do not like Teddy Bridgewater with the first overall pick. That being said I see them taking Blake Bortles instead of Johnny Manziel because coach Bill O'Brian has gone on record saying he would rather have Bortles on his team.
2. St. Louis Rams (via Washington): *Trade* Cleveland trades the 4th overall and 71st overall pick; Johnny Manziel, QB
The Browns want Manziel, and there is a good chance he won't be there when the number four pick comes around. If Manziel doesn't get taken first overall they will have to do something to pounce on the second pick. They will give up almost anything to ensure that "Johnny Football" is a Cleveland Brown.
3. Jacksonville Jaguars: Teddy Bridgewater. QB
The Jags also have made it clear what they need in this draft, a quarterback. This early in the draft it's either Bridgewater or Carr. It's obvious that Bridgewater has a brighter future that Carr.
4. St. Louis Rams: Sammy Watkins, WR
The Rams are looking to give their offense a much needed boost through the draft. They have a solid run game and one solid wide out. Adding a wide out, especially one of Sammy Watkins' caliber, would be ideal for both teams. Trading down also helps them get an extra pick later on in the draft.
5. Oakland Raiders: Jadeveon Clowney, DE
The Raiders need help. Bad. Adding an intimidating force on defense may be a good start. A player like Clowney doesn't come around very often, and the Raiders don't have a single clear cut need. Clowney will not fall past the Raiders.
6. Atlanta Falcons: Jake Matthews, OT
Jake Matthews could be taken anywhere in the top 10, and Atlanta would be stupid to let him slip past them. They are already a solid team and adding some protection for Matt Ryan would be a great help to improve from a disappointing season.
7. Tampa Bay Buccaneers: Anthony Barr, DE/OLB
Anthony Barr is the best pass rusher in the draft. He can do all three things you need a linebacker to do: run stopping, pass coverage and blitzing the quarterback. He has great instincts because he used to play on the offensive side of the ball, and he looks to have one of the better upsides of anyone in this year's draft.
8. Minnesota Vikings: Derek Carr, QB
The last name Carr may not sit well with fans because of his brother. He learned everything he knows about football from his brother, one of the biggest busts of all time. I'd think twice before drafting Carr, but the Vikings are in desperate need of a quarterback.
9. Buffalo Bills: Khalil Mack, DE/OLB
Mack is looked at as a possible cornerstones for a team even if he comes from a small school. He can do everything great and he is very powerful. The Bills could use a guy who would come in and be a franchise time player on the defensive side of the ball.
10. Detroit Lions: C.J. Mosley
Mosely is a versatile linebacker. He's not huge, but he's fast. He will come in and make an impact. He isn't great at anything, but he is good at all of the things you want an NFL linebacker to be good at.
11. Tennessee Titans: Greg Robinson, OT
Greg Robinson is vicious, and the Titans need a right tackle. Robinson is an old school grind-it-out blocker and would be a great addition to the line.
12. New York Giants: Darqueze Dennard, CB
Dennard is the best corner in the draft in my eyes. He has great size for an NFL corner and can defend both the pass and the run. The Giants have a lot of question marks at corner so this would be a great fit.
13. St. Louis Rams: Taylor Lewan, OT
The Rams will already have Sammy Watkins so why not add a guy to protect Bradford and help in the run game with young Zach Stacy. They are going to be a solid team after just missing the playoffs last year.
14. Chicago Bears: Ha'Sean "Ha Ha" Clinton-Dix
When's the last time the Bears drafted a safety? I couldn't tell you. Their secondary has been riddled with injuries, and I think Clinton-Dix could be a first year starter on this team
15. Pittsburgh Steelers: Justin Gilbert, CB
Pittsburgh really needs some help in the secondary and have made it pretty obvious that they are going to rebuild it. They have told Ike Taylor he needs to take a pay cut or be cut, and the secondary is getting older. Adding a young talented corner to the roster would be a great move to improve the pass defense.
16. Baltimore Ravens (subject to coin flip): Mike Evans, WR
Joe Flacco desperately needs weapons. He is being payed a ridiculous amount of money, and the organization has pretty much let his main weapon walk. They will add a receiver and Mike Evans is a huge body with great hands.
17. Dallas Cowboys (subject to coin flip): Louis Nix III, NT
Louis Nix is huge. The Cowboys didn't have a starting DT all of last year. They had a slew of different D-linemen come in and try to fill the gaps and none of them did. I think Nix is that guy for the Cowboys.
18. New York Jets: Eric Ebron, TE
Eric Ebron is the next Vernon Davis. We rarely see a tight end with this type of speed and ability to separate from both linebackers and corners. The Jets would be stupid to not draft him. Do you know who their tight end is?
19. Miami Dolphins: Cyrus Kouandjio, OT
The Dolphins could really help out Pouncy and the rest of the line by adding another big, skilled lineman. If Kouandijo slips far enough for them to get him I wouldn't be surprised to see them jump on the opportunity.
20. Arizona Cardinals: Jace Amaro, TE
Jace Amaro is a huge body. He towers at 6'5″ and had over 1,300 yards and 7 touchdowns last year at Texas A&M. He would be a great addition to an already solid passing attack in Arizona.
21. Green Bay Packers: Ra'Shede Hageman, DE/DT
Hageman is very quick for a 300-pound tackle. You don't often hear about a guy who plays tackle and has great quickness. The Packers could really benefit from drafting him so they could filter him in with the starters and give them some rest. He could prove to be good enough to start in this league.
22. Philadelphia Eagles: Calvin Pryor, S
He had 99 tackles as a safety, 3 picks, and 2 forced fumbles. He can do it all, and he does it from the safety position. The Eagles could use an upgrade at safety and drafting Pryor would be that upgrade.
23. Kansas City Chiefs: Odell Beckham Jr., WR
Odell Beckham Jr. led LSU in all purpose yards (2,222) last year on less targets than their other receivers. He is a very explosive wideout and would be great to put next to Dwayne Bowe.
24. Cincinnati Bengals: Bradley Roby, CB
The Bengals' secondary is an absolute mess. Every year they have issues with injury and or age in their secondary. Adding a corner would be smart and adding Roby would be even smarter. He is very fast and he is a ballhawk.
25. San Diego Chargers: Zack Martin, OT/G
The Chargers could use some help protecting Philip Rivers. They will need to either pick up a lineman in free agency or draft one. Martin would be a great addition to the line and help protect Rivers.
26. Cleveland Browns: Kelvin Benjamin, WR
What would be the best thing to put with a rookie quarterback and a team with one good wideout? A big receiver. They won't get any better value with their 26th overall pick. Manziel will need another guy to throw to and this would be a great one.
27. New Orleans Saints: Dee Ford, DE/LB
Dee Ford is a beast. He can line up on the end or any of the linebacker spots. His versatility makes him a perfect fit for a Rob Ryan defense.
28. Carolina Panthers: Marqise Lee, WR
With Steve Smith getting up there in age, it would be smart to get a younger receiver to play beside or behind him on the depth chart. Having Smith mentor a younger wideout would be very beneficial to their future and with this late pick I think Lee will be the best value at wide receiver.
29. New England Patriots: Kony Ealy, DE/OLB
The Patriots are notorious for drafting value over fit. The best value left would be Kony Ealy.
30. San Francisco 49ers: Stephon Tuitt, DE/DT
San Francisco is a bruising hard defense. Stephon Tuitt would be an awesome match with the 49ers because of the way he plays.
31. Denver Broncos: Jason Verrett, CB
The Broncos seemed to have a problem this year in the he playoffs. Champ Bailey is getting older. Adding a corner in the first round would be a great move for the Broncos and Champ would get to play some slot corner instead of having to cover the big guns, especially when it matters most.
32. Seattle Seahawks: Timmy Jernigan, DT
Seattle would be smart to add a dominant defensive tackle to their already dominant defense. They don't really need much help seeing as they won the Super Bowl.