Analyzing Recent Trending Topics on Twitter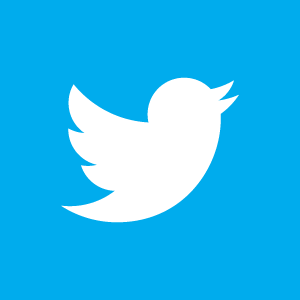 Twitter is where most people (myself included) in today's society get their daily news from. Trends, top stories, #hashtags, tweets, you name it—that's how people get their information. Rather than going to a source more well known for their stories on world problems or controversies, people are taking to Twitter to read more nonsense than actual news. I've decided to take a week and watch which trends would be weekly/daily/hourly topics of discussion and share my thoughts and opinions of the day before and after I read some of the tweets. I got the inspiration Thursday night, and this is how the week played out:
09/19/13
#owlcity 7:00 p.m.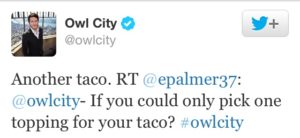 Initial thought: OwlCity? They were irrelevant a week after Fireflies came out. This isn't news.
After reading: Still irrelevant, but why is/are he/they talking about his/their favorite toppings on tacos? Plus, they came out with a song with Carly Rae Jepsen last year, so why are people still talking about it? Although I never listened to it, I'm still a fan of Carly Rae Jepsen. #CallMeMaybe?
#Eagles 8:45 p.m.
Initial thought: Chip Kelly's offense was looking pretty sweet, and were one of the most highly anticipated teams to watch this year, next to the Broncos of course.
After reading: You would think this would be sports news, right? Wrong, not even a mention of the score; it's just people tweeting "let's go #eagles" and attaching pictures of their McNabb jerseys…
#KCvsPHI around the same time
Initial thought: Philly is probably winning by a lot based on last season. (I don't watch football.)
After reading: 10-6 Chiefs? The people saying that Chip Kelly is an idiot and it's not college football are the same ones during Week 1 who said how sick his offense was going to be this year. Can you say hypocrites?
#HowToAskSomeoneOnADate 11:30 p.m.
Initial thought: Just an example of one of the many ridiculous hashtags people use to "entertain" themselves. Regrettably, I used this hashtag, but quickly deleted it because no one favorited it.
After reading: Mostly just pictures that are somewhat funny.
9/20/13
#1Dfansgotthatpower 7:30 a.m.


Initial thought: One Direction has a huge amount of fans, so it's no surprise that a 1D type of hashtag is trending. What kind of hashtag is this though? Is it a mix of 1D and will.i.am's song #thatPOWER? I just don't get it.
After reading: Not news. My understanding is that Liam just used this hashtag because his "gang" has more followers than their bitter rivals the Beliebers? Okay maybe Liam is mocking Justin Bieber, but some people just go way too far sometimes.
#1DAnyTimeOfDayMemories 9:00am
Initial thought: I like the Best Song Ever and everything, but really? Another One Direction hashtag? This isn't what I would consider "news."
After reading: This is ridiculous. The hashtag could have just been "#1DMemories" for starters, but this is getting out of hand. Why are people reminiscing on what it was like before Harry had tattoos, when the Best Song Ever video came out, their first picture as a group, and them hugging at the VMAs? One Direction fans need to stop tweeting while they're in school.
#BlackBerry 3:30 p.m.
Initial thought: Did BlackBerry send an update for their products or something to compete with Apple's release of the iOS7?
After reading: 4,500 job cuts from the company?!?!? That's nearly 40% of its global workforce! BlackBerry expects an estimated $1 billion loss in quarter two. I'm no expert on stocks, but I suggest selling your shares.
#AJO not a trending topic (yet), 5:45 p.m.
Initial thought: Everybody is tweeting about Alyssa O'Neill in the area and many people around the world are tweeting pictures of them "Paying it Forward" with a Starbuck's Pumpkin Spice Latte. It's amazing how much one person can change the world and raise an awareness such as Alyssa is doing for epilepsy awareness.
After reading: Wow. Alyssa's story is going to be on the Ellen Show hosted by Ellen DeGeneres. It is truly unbelievable how much of a difference she has made.
Christmas 8:30 p.m.
Initial thought: Really? This is trending? I LOVE Christmas, but it's 90-some days away guys.
After reading: Nothing newsworthy. Just as I expected, people are counting down the days until Christmas and talking about how much they love Christmas music.
An A-Bomb 9:35 p.m.
Initial thought: As a Yankees fan, I love seeing this. Alex Rodriguez probably smashed one out of the park.
After reading: Not only did he smash it, he hit a grand slam to pass Lou Gehrig for the most grand slams of all time! People can hate him all they want, but there is no denying he is one of the best baseball players of all time. Pretty exciting for a struggling Yankees team.
9/21/13
Anything related to college football, all day
Initial thought: I hardly watch football, but college is better than the NFL in many people's opinions. Also, MSU thanks for not putting Damion in. #GoBlue
After reading: Twitter is run by college football fans. It just goes to show that people would rather watch and tweet about football than read a depressing article about a world problem.
Sweet Caroline 4:30 p.m.
Initial thought: Classic. Everyone knows the words to Neil Diamond's hit song. I wonder why it's trending though.
After reading: Another college football reference. After being banned from Penn State following the Jerry Sandusky scandal, it was played for the first time at Beaver Stadium.
#Kenya 8:00 p.m.
Initial thought: Honestly, I have no idea what this could be about.
After reading: 39 people killed after the terrorist group Somali Al-Qaeda affiliate Al Shabaab hijacked a Nairobi mall. It's speculated that four U.S. citizens were injured in the attack. Here's more from Kenya via BBC News: http://www.bbc.co.uk/news/world-africa-24191606
#10ThingsILove 9:40 p.m.
Initial thought: "I love lamp." But seriously, it's just another pointless hashtag people are using.
After reading: My initial thought exactly. Just a bunch of people tweeting 10 things they love.
9/22/13
Anything NFL related, all day
Initial thought: When does the NHL season start?
After reading: When does the NHL season start?
#boldpredictions 10:40 a.m.


Initial thought: This hashtag is definitely about bold predictions for today's NFL action.
After reading: Why am I so good at predicting what hashtags are about?
9/23/13
iPhones 9:00 a.m.


Initial thought: Thank God for Steve Jobs. I wouldn't be able to check Twitter on an hourly basis if it wasn't for my iPhone. With the release of two new phones recently, I wouldn't be surprised to see a big headline about them.
After reading: Apple sold more than 9 million iPhones this weekend. That's crazy. It's hard to wrap your head around, so here's a little perspective.
#ManCrushMonday, All day
Initial thought: At first I was reluctant to write about this hashtag, but seeing it has been trending all day I said why not. For those unfamiliar with Twitter, every Monday this trend happens and mostly girls just tweet pictures of their celebrity "man crush".
After reading: Why do people waste their time with this hashtag? It's usually the same celebrities and pictures every week. I have a little resentment because no one has ever tagged me in one of their tweets with this hashtag so let's get on with something somewhat important.
#DWTS 8:00 p.m. to 10:00 p.m.
Initial thought: I love Dancing With The Stars, and it's up there as one of my favorite TV shows. You can expect a season finale article from me in the future. I'm not surprised this hashtag is trending considering all shows nowadays have their hashtag in the bottom left corner of the TV.
After reading: Honestly, I didn't read anything, but I did live tweet myself. I was kind of sad when none of my tweets made it onto the show.
9/24/13
#ThingsIGetALot 11:20 p.m.
Initial thought: Things I get a lot: "Hey, are you and Jake brothers?" "Are you guys twins?" My reaction: "No we're just really good friends that do everything together…" But what I really say is "Yes haha"
After reading: Not news. Just people saying what questions they get a lot. Very pointless.
9/25/13
Darth Vader 8:55 a.m.
Initial thought: Darth Vader used to scare me as a kid. Idon't know why episodes four, five and six came out before one, two, and three, so I never understood Star Wars, I just liked the action.
After reading: Senator Ted Cruz apparently did a Darth Vader impersonation during his "filibuster" to keep the Senate from restoring the funding of Obamacare. I think taking almost 22 hours and him saying, "until I am no longer able to stand", for what he believes in is a pretty cool thing. Consider this, Sen. Cruz is 42 and stayed standing for almost a day, while kids in school complain about having to stand for more than five minutes. He also kept it pretty light the entire night with some things I thought were kind of funny (such as reading Green Eggs and Ham while on the Senate floor), and in my opinion did one of the worst Darth Vader impersonations I have ever heard, but it got the point across. Check out his Vader voice:
http://abcnews.go.com/Politics/t/video/ted-cruz-obamacare-filibuster-senate-speech-2013-darth-20372524
#wcw, All day
Initial thought: The cousin of #mancrushmonday, another one of the weekly hashtags of guys tweeting pictures of their "woman crush" on Wednesday.
After reading: Same thoughts as the "man crush Monday" hashtag.
—
As you can see a very high percentage of trending topics are unrelated to news, and instead are things that are used to entertain the Twitter users. Even though there is a large amount of nonsense cluttering social media, people are referring to it for news rather than watching a news station. We should be careful of what we believe on Twitter, since much of it can be fictional information that people use to play jokes on one another.