Prep senior Bryan Sienerth has sights set on bright hockey future
Arguably one the greatest athletes to ever attend Cathedral Prep is among you gentlemen right now. He is not a football player, basketball player, or even a baseball player. He is a hockey player, and for those of you who don't know him already his name is Bryan Sienerth.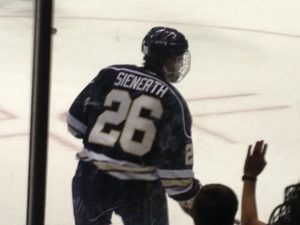 Bryan has been playing hockey since he was 3 years old, starting his career with the Cubs. Then when he was 6 he played for the Minny Mites, and as he became older he worked his way through the Erie Lions Organization. After he tore up the league and began making a name for himself, Bryan and his father made the decision for him to play travel hockey in Pittsburgh.
At the tender age of 12 Bryan tried out for the Junior Penguins, coached by Mario Lemieux and easily made the team. He was only a Junior Pen for three years, but in that time he posted tremendous numbers and was the best player on the squad. It was at this time in his life when his coaches started to see his true potential and began to realize he was good enough to play in the NHL one day.
However, that time was still years away, and when Bryan turned 16 he had to switch leagues and joined the Pittsburgh Hornets. The following year the team switched its name to Pens Elite and got a new coach, Mario Lemieux. Bryan is currently the starting center for Pens Elite and is undoubtedly their best player.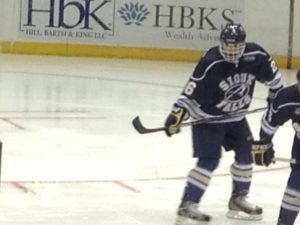 One year ago, as many of you already know, Bryan was drafted by the Erie Otters in the 13th round. And although he would've been a key contributing player he turned down their offer so he could play college hockey. For those of you who are not familiar with how hockey works, if Bryan would've played for the Otters he would have been ineligible to play hockey in college. This is because only amateurs are permitted to play in college. By signing with the Otters he would've received a salary and been considered a semi-pro.
The following spring Bryan entered the USHL draft, the top junior league in the Untied States, and was picked by Sioux Falls in one of the later rounds. However, in order to play on the team he would've needed to move to South Dakota and transfer from Cathedral Prep. Thankfully, he decided to stay in Erie one more year and get his high school diploma.
After high school, Bryan plans to take one year off from school to play in South Dakota. After that he will attend the number one school in the nation for hockey, Miami University of Ohio. He has already verbally committed to the RedHawks starting in 2016. To put this in perspective, this is the equivalent of one of our football players being recruited to Alabama or Oregon.
Although he has not received a lot of hype, Bryan's number don't lie. His skill set is impeccable, and the possibility of him making it to the pros is very likely.
Many admirers and lovers of the game have great things to say about Bryan and can't wait to see how his future pans out. Brandon Gotkin, a long time hockey player has said, "I've played with and have seen a lot of good players in my day, but Sienerth is without a doubt better than all of them. There is no doubt in my mind this kid will go pro."
The Rambler caught up with senior Sienerth to ask him a few questions.
Q: Do you ever wish you played a different sport when you were little?
A: No, hockey has always been my first love.
Q: Did you ever think you would be this good and Miami of Ohio would recruit you?
A: No, up until last year I didn't have much respect from scouts, which probably helped me strive to play at the level I am now.
Q: Has it always been a dream of yours to go pro?
A: Yeah, I think that's why we all play.
Q: Why didn't you ever play for Prep?
A: I have nothing against the Prep hockey team. I go and watch as many games as I can. I just want to avoid a stupid injury that would hurt my overall hockey career. Playing with Brandon Gotkin has always been a dream of mine, but I just can't risk anything.
Q: How do you balance school with your future career in hockey?
A: I try as hard as I can in school. It is essential that I keep my grades up.In the college hockey world they take their grades very seriously, and I do too.