A new school year begins in an updated building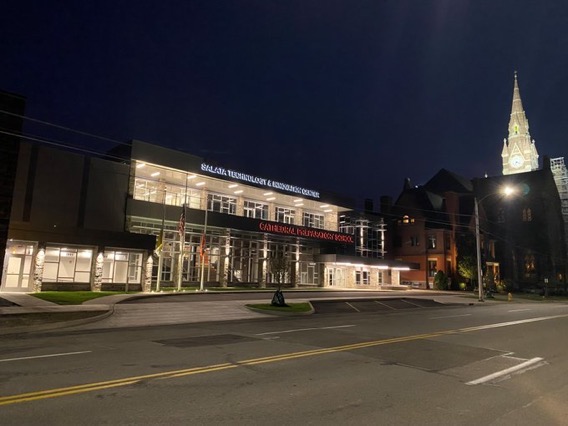 After three years of extensive planning and preparation, a new school year is underway in the newly renovated Cathedral Preparatory School building. The monumental task began in 2019, when the senior administration, led by former president Chris Hagerty, decided upon a consolidation between the Prep and Villa campuses. From there, consultations began with the Fielding International Architectural Firm of Lansing, Michigan, and the Roth Marz Partnership, of Erie to develop design plans for the new spaces.
The historic building has undergone extensive renovations, including new HVAC systems throughout the building. The indoor pool in the east end of the building was filled in and replaced with a new dance studio and fitness center. The locker rooms have been fully renovated, and a new women's locker room has been added. An elevator is being installed in the first-floor hallway and should be functional by early November.
The new Student Life Center, visible from the main entrance on West Tenth Street, is the focal point of the school, serving as the cafeteria and a space for student recreational activities. Additionally, the main office, guidance offices, and the STEAM Hub are major changes to the building.
New opportunities are aplenty in the new spaces. The STEAM Hub on the third floor, in particular, boasts an Esports computer lab, a new communications classroom, a renovated art room, an engineering classroom with a workshop, and the project balcony.
Mr. Pituch, the Vice President of Academics and Student Affairs, played a key role in this task. He oversaw much of the academic logistics, but also dabbled in the design process, selecting furniture, fabrics, and fixtures. He was "very deeply involved in the design process from beginning to end."
Mr. Pituch also credits Coach Mischler to be a person equally as involved with the design process. Renovating a hundred-year-old building was not without its challenges, however. The older building is comprised of older materials, such as brick and cement, which are somewhat incompatible with newer construction materials, which was a challenge for the construction team to overcome.
Despite the challenges, Mr. Pituch is glad to see students and faculty back in the building, as it has reaffirmed the months of hard work and reminded him what the new school is all about.
"Now I remember why we did this," Mr. Pituch said. "We did this because of this community. We did this because of the kids … because of the teachers. This was going to be the best thing for us as a school community, to be able to offer the best experience possible for our students."