Farewell to Mr. Malec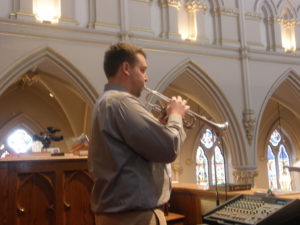 It is the end of an era down in the music room at Cathedral Prep. In 2009 Prep gained a very special member to their facility and someone who took the music program to a whole new level. Mr. Malec has a been a music instructor for the past five years here and has taught various classes including class piano, class guitar, percussion, jazz ensemble, guitar ensemble, AP music theory, and more.
Mr. Malec has also done a lot of work for Cathedral Prep's MVP (music, video, and performing arts) program. He was the director of the program along with Mr. Deau and Mr. Victory. When Mr. Malec first came to Prep there was no money in the drama club and now, five years later, the club is self-funded and doing tremendous things. He is also in charge of the musicals during plays. 
Here is a Q and A I had with Mr. Malec about his time at Prep: 
Q: What is your favorite Prep memory?
A: I enjoyed all my time here. I don't have a specific favorite memory. 
Q: What was your favorite class to teach and why?
A: Jazz ensemble. It is my favorite type of music, so I really enjoyed teaching it. 
Q: What accomplishment are you most proud of?
A: Inspiring students to perform at their best. 
Q: What will you miss most about Prep?
A: The people. I really enjoy everyone. 
Mr. Malec is accepting a job as the General McLane band director. We wish him the best of luck on the next chapter of his life.