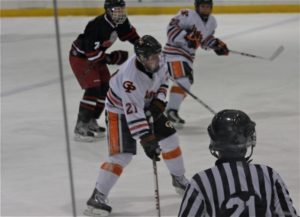 The Cathedral Prep hockey team opened their season at Mercyhurst Ice Center last night at 8:30 p.m. The Ramblers defeated Baldwin High School (from the greater Pittsburgh area) by a score of 4-3. Jack Kelly led the team with 2 goals, and Trevor Faulkner and Jack Becker each added a goal apiece.
Prep's season came to a disappointing end last season with a 1-0 loss in the semifinals (Pens Cup) to Bishop Canevin. Fortunately for the Ramblers, their top goal scorer returns for his senior season this year. This year the hockey team is looking to improve on their finish from last and are hopeful at making a run at a state championship.
Leading the Ramblers are seniors Trevor Faulkner, Ben Eliason, Jack Kelly, and Hunter Emerson. Trevor Faulkner, assistant captain of the squad, scored 35 goals and tallied 76 points last year. Senior and assistant captain, Ben Eliason, led the team in the point category (goals and assists combined) recording 90 points. Jack Kelly, captain of the team, is the returning star defenseman and was elected to the PIHL all-star game.

Hunter Emerson, a forward and assistant captain on the team, looks to step up and make an immediate impact. I caught up with Ben Eliason to ask him a few exciting questions. When asked how this year's team compares to last year's, Ben replied, "I think we're stronger, and have a deeper team. Last year it was more of just the top players getting the job done, but coming out of our first fees scrimmages, we are definitely stronger."
A key reason the team is stronger this year is because they have a lot of young, rising talent with more experience. When Ben was asked about the young players who will standout, he said, "Sophomore Dillon Elliot is a very good young player. Also, freshman goalies Jake Kucharski and Jarrett Fiske are both very talented."
When asked why students, faculty, or any sports fans should make it out to a game, Eliason said, "Hockey games are really exciting and fun to watch. The team is very good this year, and every game will definitely be worth coming to."
If you are looking for quality hockey and a good time, go watch the Cathedral Prep hockey team this season.