Which southwest grill reigns supreme?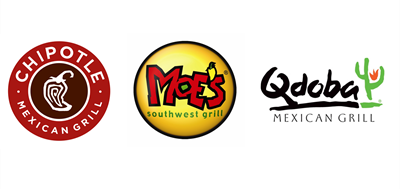 There are few moments better in life than getting home from a long day of school to hear your mother say, "Where would you like to eat?" Erie is always adding new restaurants to Peach Street, and in recent years the city has added three southwest grills to its already impressive restaurant options. Moe's, Chipotle, and Qdoba have been competing for Erie's palate for a couple years with no clear winner.
Three Rambler writers who consider themselves experts with great taste weighed in with different opinions toward which option is best, making the competition even more heated.
The Case for Moe's Southwest Grill by Joe Sala
Right when you walk in the door, you are treated with a hearty "welcome to Moe's!" You get to look through a simple menu that helps you to get a basis for what you plan on getting. Then, you get to choose from chicken, steak, beef, and even tofu. From there you get to choose any vegetables, sour cream, and queso that you want. It is put in a basket with some chips and you're done, with a freshly made Mexican item of your choice.
Moe's contains multiple items on the menu that can appeal to different tastes. They have the traditional tacos, quesadillas, and burritos, with some specialty items as well. The stack is a newer popular item on the menu. It consists of a layer of cheese, followed by a crunchy chip in the middle, any of the fillings you want, and at the end, another chip and more cheese. They proceed to fold it, and put it on the grill until it is grilled to perfection. You then get to enjoy the cheesy, melt-in-your-mouth deliciousness.
Senior Oliver Wiesner commented,"I like 'The Wrong Doug' stack because of its huge amounts of cheese, including queso inside." Another major thing that separates Moe's from its other lesser competitors is their chips and queso. When you think of great food combinations you see cookies and milk or fries and ketchup. Chips and queso has to be in the talk for top food combos. The chips come complimentary to every meal, although the queso is an extra side. Compared to Qdoba, where you have to pay for both, or Chipotle, where you have to pay for chips and they have no queso, Moe's proves to be the LeBron James of the big three.
The case for Qdoba by Ed Ruff
For the spicier fans of the southwest style restaurants, Qdoba is the place to be. Qdoba is definitely the zestiest of the three. It has also been shown that Qdoba adds a tremendous amount of meat in their burritos, a significantly larger amount than that of Moe's or Chipotle's and also has the major upside of no-cost guacamole and other sides, a huge boost in the Southwest style of burritos and other entrees that they offer.
The queso that "the Q" (the nickname for Qdoba) has is much thicker than that of Moe's, which is extremely "soupy." Additionally, Chipotle does not even carry queso, a huge disadvantage in this day and age. As Jack Kelly, a senior at Cathedral Prep puts it "Qdoba's queso is just hands down the best. Moe's queso is just too sloppy and doesn't have the right taste and Chipotle doesn't carry even have queso. How can you do that? Qdoba is obviously the right choice in my mind."
It is not only stated by students at Prep, but also by people that actually work at Mexican restaurants. In a study done by zagat.com where the people were given burritos and not told where they were from (including burritos from Qboda and Chipotle) three of the four chefs and workers said that the Qdoba cuisine was superior to that of Chipotle. Some reactions included "the Qdoba veggie burrito was fresher-tasting" and "had meat of a higher quality" while the Chipotle meat was "overcooked" and "super boring."
The case for Chipotle by Daniel Bauman
Chipotle is the Michael Jordan of southwest grills, the G.O.A.T. It is hard to even compare it to Moe's or Qdoba because Chipotle's quality of food and popularity is unmatched. Chipotle always has fresh ingredients, and they are always cooking new meat. At Moe's, I have had numerous experiences where I have gotten a burrito and the meat is cold. The meat is the most crucial part to success in this industry, so who wants to eat at a restaurant who serves cold meat that has been sitting out for hours? At Chipotle, I have had to wait for my meal because they were cooking fresh chicken. The wait is definitely worth knowing you are getting served fresh meat straight off the grill. Nothing is better than fresh, hot chicken, pork, or beef on your burrito or bowl.
Chipotle is dominant because they have the best burritos and bowls. These two items are the most popular at Chipotle, Moe's, or Qdoba. I have eaten at all three restaurants and have eaten both items. Chipotle's burritos are the biggest and best put together. At Chipotle, if they roll your burrito poorly, they will re-roll it or double up the tortilla shell. At Moe's I've had so many instances where my burrito was poorly wrapped.
In regards to the bowls, Chipotle is the best. They have the best ingredients and the overall flavor of the bowl is superior. I asked senior Chucky Bizarro why he loved Chipotle's bowls so much and he said, "They make the bowl just right, the meat is delicious and the added ingredients such as their salsas make Chipotle the best." Qdoba is terrible because I got food poisoning from eating there so I do not even consider them a competitor to Chipotle.
If you are looking for the best meal and experience, Chipotle is the place to go. It is also the perfect place to take a girl because the majority of girls would commit sins for Chipotle.