Class starts marketing campaign to keep the Otters in Erie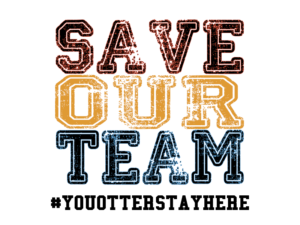 The phrase #YouOtterStayHere is a campaign slogan that has become increasingly more popular recently. This campaign slogan and the Save the Otters campaign was started a few weeks ago by the marketing class at Cathedral Prep.
Fortunately the marketing class, led by Mrs. Kim, is crowd-sourcing this campaign to try and keep the Otters here in Erie. Their Facebook page (You Otter Stay Here) has more than 3,700 likes and is still climbing, and their Twitter page (@save814hockey) has more than 400 followers and counting. They also have a website (save814hockey.wix.com/erie).
The campaign's mission is stated on their Facebook and Twitter accounts: "the mission of the #YouOtterStayHere campaign is to keep the Erie Otters hockey franchise a local asset and opportunity."
The Erie Otters are the city's minor league hockey team, which competes in the Ontario Hockey League (OHL). The Otters, who began playing on Erie in 1996, are in danger of moving out of the Erie area.
On Dec. 1, a federal judge halted the forced sale of the Otters. However, the owner is in debt and the future of the team in Erie remains unknown. If a local buyer doesn't step forward it is possible that the Otters will disband or move out of the area.
The campaign efforts have not been in vain. The organization met with Erie City Council on Dec. 17, and they have a private meeting scheduled with Rep. Ryan Bizzarro this month. Additionally, potential buyers have been contacted, and the manager of the team has been contacted to attempt to protect the Otters.
The success of the campaign is well merited as the marketing class has been working hard on this project. The immense amount of personal hours and stress that several students have put forward for this cause has all been voluntary. The work the marketing class is not financially backed by Prep, nor is it meant to represent Prep's opinion on this subject.
This campaign is still ongoing and deserves the support of the Erie community. To support the campaign, like the page on Facebook and follow them on Twitter to keep up-to-date on the latest happenings as they try to help keep the Otters in Erie.