Bold Predictions for 2015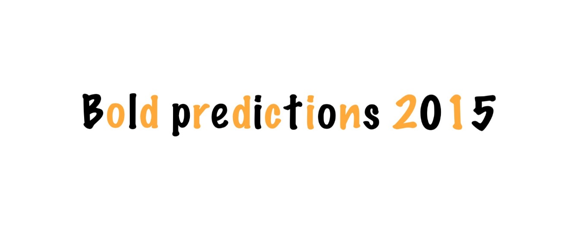 The exciting year 2014 has finally ended, and with it the much awaited 2015 begins. From LeBron James returning home to the tragic death of acting legend Robin Williams, 2014 will be a hard year to forget. This year brings a ton of potential to the table and will hopefully be as exciting as we hope. Bold predictions for 2015 are as follows:
Sports
Tiger Woods will win another major championship
Even if Tiger doesn't win a major championship, he will still go down as the best to ever play the game. However, this year will be the year he finally breaks that cold streak. Early in his career, he looked like a shoe-in to beat Jack Nicklaus' major championship record of 18, winning 14 by the age of 32. Injuries and infidelity scandals briefly derailed his career, however, making this achievement look out of reach. With surgery over the offseason and plenty of time to practice, he is primed to finally get back on track.
The Cleveland Cavaliers will be knocked out first round of the playoffs
The Cavaliers have been less than impressive so far this season, being a woeful 5th place in the weak Eastern conference. LeBron James and Kevin Love were two huge free agent additions in the offseason, and they looked primed to be an unstoppable force. The injury bug has hit them hard already this year, losing Anderson Varejao for the year with a torn Achilles, and chemistry issues are already beginning to arise. They keep adding to their already loaded roster with players like J.R. Smith, Iman Shumpert, and Timofey Mosgov. Until they start playing as a unit instead of separate stars, they will continue to struggle.
The Cleveland Browns will have yet another starting quarterback for next season
Being a Browns fan requires one thing more then anything else, patience. 2014 looked to be a promising year for the Cleveland team which was red hot in the beginning of the year but went down hill fast. A loss to Buffalo in week 13 led to a 5-game losing steak to end a typical Browns season at 7-9. Brian Hoyer was benched in week 15 in favor of first round draft pick Johnny Manziel. Manziel's first start resulted in a 30-0 loss to the Bengals. Connor Shaw took the reigns week 17 after injuries to Hoyer and Manziel. With Hoyer's mediocre play, Manziel's off the field issues, and Shaw's slow development, it's looking like another new starter will be making his way to Cleveland.
Entertainment:
Star Wars VII will be a disappointment
It's been 30 years since the last Star Wars movie has come out, and finally George Lucas has decided to add another to the legacy. Unfortunately it will not live up to the expectations. It should be an action-packed film with plenty of light saber fights, but might be too advanced to go along with the typical Star Wars movie atmosphere. It'll be hard to recreate the classic looks of the aged characters, and it's hard to see the effects fitting in with the other movies.
Ted 2 will be the number 1 comedy in 2015
Ted is back and this time with an even more star studded cast. After a hugely successful first movie, Seth Macfarlane and Mark Wahlberg team up again to bring you the the sequel to Ted. This time, on top of the hilarious cast from the first movie, more great actors such as Liam Neeson and Morgan Freeman are both starring. It'll be a tough task to top the first one, but the potential in this movie makes it a must watch.
Miley Cyrus will continue her antics…and worse
Miley, Miley, Miley. What happened in 2014? You went from being one of the most promising young actors/singers in Hollywood to a 22-year-old party girl who sings about "molly" and twerking. We know your beloved fiancée Liam Hemsworth left you, but let's handle the breakup like an adult, please. And no, that doesn't involve swinging naked on a wrecking ball. Sadly it seems like she's past the point of no return. Although the whole world hopes she makes a turn for the better, she seems to be headed downhill fast.