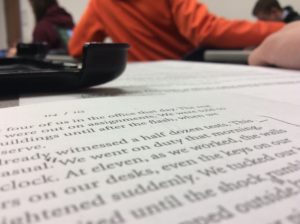 A whole collection of students from the junior and senior classes at Prep are beginning to wind down their year at the college just down the street from Cathedral Prep, Gannon University. This means it's almost finals week. Stress may ensue, yet what comes after the short-term stress is utter bliss. By the end of next week, the week of May 4th, dual-enrollment and Gannon scholar students will now not have to show up to school until 8:59 a.m. and 10:33 a.m. respectively, giving students plenty of time to cook a healthy breakfast, do chores around the house, and do what students will probably take advantage of the most, which is sleeping in.
Yet before students reach this gift of free time, they must endure what most students consider the largest stressor in college: finals. A whole semester culminated into a single test or paper. Now imagine one of these "finals" for every class the students have. For Prep students taking courses at Gannon, the task isn't as difficult as it is for the actual Gannon students who could have at least six or more finals. Gannon scholars have to take as many as three finals and dual-Enrollment students could have just one. Senior Gannon scholar Alex Ventrello is looking forward to Gannon's summer break. "I just can't wait," he said. "Waking up at 6:30 is getting old. Being able to sleep-in and take my time getting to school will make the remainder of my senior year much more enjoyable."
Finals week sums up the semester in a single test or paper and, undoubtedly, could be a stressful time for students. Yet when it's all done, students are free to enjoy all of the activities and memories that come with summer. Unfortunately, Prep students need to wait until June until they are set free for three months of no school and endless fun. Students lucky enough to be enrolled in Gannon classes at Prep get to celebrate their summer a month early. Of course, that can only come after they complete their finals during the upcoming week of May 4.