April 17, 2015 was the final quarter sessions of the school year. It was also the last quarter sessions for the senior class of 2015.
Quarter Sessions is a time when Cathedral Prep Ramblers are recognized for their academic and honor achievements for the quarter. Achieving honors at Cathedral Prep is not an easy accomplishment; therefore, anyone who puts in dedication into achieving that hallmark deserves to be recognized.
Freshmen were awarded 32 first honor cards and 49 second honor cards for a total of 81 and a class percentage of 57.86 percent. They were also the class who were awarded the highest percentage of honor cards out of all four grade levels.
The Sophomore class were awarded 27 first honor cards and 25 second honor cards for a total of 52 honor cards and a class percentage of 41.27 percent.
The junior class were awarded 28 first honor cards and 52 second honor cards for a total of 80 honor cards and a percentage of 50.31 percent.
Finally, the graduating class of 2015, the seniors, were awarded 10 first honor cards, and 41 second honor cards for a total of 51 honor cards and a percentage of 40.48 percent.
Total second honors throughout the school was 167, and total first honors was 97.
Congratulations to everyone who achieved honors and earned other academic awards during the third quarter.
The guest speaker that Cathedral Prep had the honor o
f hosting was Mr. Brian Collen, a  Cathedral Prep graduate from the class of 1980. At the session, he enlightened the student body of what it means to be a Prep Rambler. He also told the students about respecting teachers, rivals, parents, and friends as it can get them far in life. Most importantly, he proudly mentioned that Prep will always beat McDowell.
Cathedral Prep is known for having the best faculty and staff in Erie. No other school can come close to the dedication each staff and faculty member puts in every day for each and every student. Mr. Murnock had the pleasure of announcing the faculty and staff who have been working for the past 5, 10, and 15 years.
Five years of service recognition went to Mr. Tony Parsons, Mr. Doug Vicary, Mr. Kenneth Bliel, and Mr. Robert Pruzenski. Ten years of service recognition went to Mrs. Colleen Maxson, M.Sgt Rich Sambuchino, Mr. Ryan Fasenmyer, Fr. Michael Demartinis, and Mrs. Barbara Prischak. Fifteen years of service recognition went to Mr. Bill Flanagan, Mr. Brian Markley, and Mr. Michael Mischler.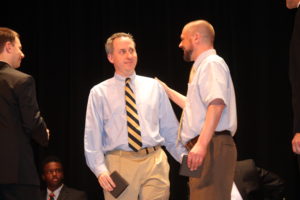 Mr. Markley, a chemistry teacher, is a prime example of someone who shows how valuable it is to be a teacher. He previously worked as a medical technologist, but it was not until he started teaching people there that he has realized that he wanted to teach. His aunt, Shirly Markley, was a great influence on him. She helped him to become the incredible teacher he is today. "Getting various topics, getting facts into students brains," said Mr. Markley, regarding his favorite aspect about teaching. Being a teacher also means to have a lot of great coworkers. Most memorable to Mr. Markley are retirees Mr. Bill Clancey and Mrs. Donna Stoczynski.

Congratulations to everyone for the success and accomplishments they have earned.