Study shows some negative effects of homework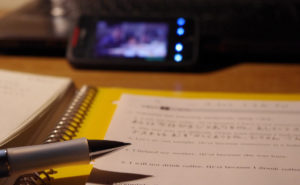 One of the most controversial subjects that students like to argue about is homework. Rumors that homework doesn't do anything, or that it makes things worse are often seen as excuses by teachers, but do student complaints have any weight to them?
Traditionally, homework is seen as a concept that helps students retain information they've learned in class at home. The fact is that the mind likes to learn through repetition. There indeed is some evidence that the mind can understand concepts better by going over it multiple times. Traditionally, homework is a good thing. It helps students rather than hurting them. Teachers have had no problem enforcing this rule over the years since most students obediently complete their work anyway.
Last year, however, a Stanford research study showed that homework might have some counterproductive aspects as well. People who spend too much time on homework appear to experience more stress, physical health problems, and even a slight lack of balance in society compared to people who may not be so dedicated to their work. Through a period of investigation and study into the subject, there have been a few major points that show the downfall of the concept.
Reductions in health
The major point of how homework can affect one's health is indirect, although for some students, it is very apparent. Sleep deprivation is something that shows very often in colleges. While it does not show as much in high schools, it still exists in some people who take longer to do their work compared to others.
Less time for social pursuits
Both survey data and student responses show that spending too much time on homework means students cannot develop outside of school. Socializing is another skill that students need, and it is something that schools cannot teach traditionally. Homework takes away time from this kind of development.
Stress
Many students consider homework a primary source of stress. Homework is often a big part of a student's grade. For some teachers, homework may be an even bigger part of a student's grade than tests or quizzes. In such a class, there is no option to not do the homework without risking failure. The survey from Stanford states that 43 percent of students believe that homework is indeed a primary stressor, while they should be stressed about more important things going on in their life.
All in all, homework isn't inherently bad. Even through all of the side-effects, it still might help students with the subjects they are learning in classes.
The one question left at the end, however, remains: "Is it worth it?