Prep students begin 2015-16 school year with new freedoms, responsibilities
Another school year is finally upon us. After a scorching, long summer, I would like to welcome all students and faculty back on behalf of the staff of The Rambler. A lot has changed over the past summer within the Prep halls. New lunches, stricter enforcement of the uniform policies, and the soon-to-be-completed new additions to the Prep and Villa Events Center headline the new school year.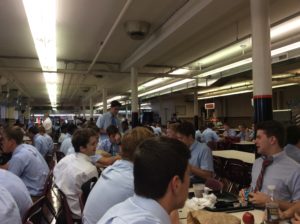 Perhaps some of the most exciting, anticipated changes to the school are the changes in the cafeteria. The new lunches from Metz Culinary Management provide students with a variety of food options, including wraps, burgers, pizza, and even two waffle makers with strawberries and whipped cream. The cafeteria is also now open at all times during the school day, with study halls being held there. The cafeteria also added televisions set to sports channels for the students' enjoyment.


Another change this year is the the reinforced uniform policies. This year, instead of getting a warning about changing one's uniform, teachers have been instructed to send students down to the office where the student is given a fine for his infraction(s). These fines are usually just $5 or $10, and the money goes toward student activities, which will happen lessen costs for field trips, and financial aid for students who cannot pay full price for school events.
Finally, one of the most exciting additions to the school scheduled to happen this year is the completion of the gymnasium and aquatic center at the PVEC. Both of these new facilities will provide students with the opportunity to train harder then ever. Water polo player Dave Rahner said the new pool, "will provide us [with] a clear advantage in training, not only because it is all deep but also because it is 25 yards as compared to the 20-yard pool currently at Prep."
Cathedral Prep made huge strides this year in making the school more student friendly. The new additions provide students with more freedom and administration is hoping that they will make the most of the opportunity by acting responsibly.