Music Review: Drake's If You're Reading This It's Too Late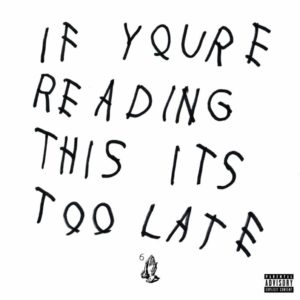 In honor of October, we're kicking off the month with a Music Monday dedicated to Toronto-born-and-raised singer, songwriter, actor, producer, label chairman, Aubrey Drake Graham, better known as Drake. He is arguably the biggest superstar in music today. It's only right to acknowledge the biggest hip-hop talent to ever emerge out of Canada.
Drake has paved a path for many artists and has brought up just as many, mentoring stars such as The Weeknd and PARTYNEXTDOOR. It's hard not to like the man — if he's not making music he's supporting his hometown Raptors, donating to various communities, showing love to his supporters, or hosting the Grammys. Drake is everywhere, in every sense of the statement. He's truly a global artist that continues to spread his influence like wild fire across the music industry and across the world.
His career discography and list of accomplishments is that of a veteran at the incredibly young age of 28, and he doesn't seem to be stopping any time soon. However, rather than ramble about his outstanding success, I'll focus on his latest offering, If You're Reading This It's Too Late. It's quite possible that no title has ever held more true to the reality of an album than in this case. Subsequent to its surprise release, it sent the internet into a frenzy and drew closer the already tight-knit, cult-like following of Drake.
Not often, if ever, do you witness a mixtape full of B-tracks go platinum in less than half a year. The most quotable artist in hip-hop came back with another project filled with vine-inducing, meme-generating, merchandise-inspiring innovative musical genius. The tape kicks off with the pretentious anthem "Legend", followed a few tracks down by possibly his best known song to date, "Know Yourself". It then transitions to the syrupy smooth and sleep-invoking slow jam, "Madonna", before kicking things back into gear with the confident and up-beat theme song "6 God".
Closing the mixtape is the self-reflective track "6PM In New York", stringing everything together as if it were meant to be. With this project, Drake solidified himself as the man of his genre, proving that he wasn't the force to be reckoned with, but the force that decides who reckons with whom. He sits atop his pedestal as one of the most recognized artists in music, and is set to release a new album soon, Views From The 6, that is sure to shake the game like the earthquake Drizzy emulates so well as an artist.
In the unlikely situation in which you haven't yet heard If You're Reading This It's Too Late, check it out, and see what all the hype is about.
Click to buy it on iTunes.