The Ultimate Faculty Fantasy Fighting Championship Bracket Results
Note: All situations discussed in this article are hypothetical and created for the enjoyment of Prep students.
UPDATED November 12: Championship Results


After 16 teachers battled it out for the crown, only one remains. It was a hard fought battle for all competitors week to week, battling through adversity to attempt to move on to the next round. A bracket filled with upsets was sure to provide students with a championship matchup unlike any other. Cinderella story Mr. Achille stepped squared up against highly touted, macho man Mr. Parsons. This matchup came to the surprise to many of the teachers, who offered impressive resumés. Nevertheless, the match up still excited many of the students.
The championship offered quite the matchup with the underclassman teachers going head to head. The Cathedral Prep legend versus the younger Prep diehard offered quite the intriguing matchup. In the end, the veteran was able to pull out the win. Mr. Achille dominated Mr. Parsons for the championship that will go down in the record books. It was no surprise to many that the 11 seed algebra teacher took the battle with 61.6 percent of the votes over Mr. Parsons. Mr. Achille was over joyed with his victory. "I would like to thank all the students for their tremendous support. It is a great feeling to know that I had the backing of the student body. Many thanks, boys! It is very much appreciated! I guess there is something to say for experience."
It has been a long, grueling battle for Mr. Parsons and will be a tough loss to swallow. His only comment on taking the L was,"I humbly accept defeat. I had a good run and I'm glad I lost to a Prep legend such as Mr. Achille."
We would like to thank all faculty for participating and also being good sports in such a competitive bracket. Also, thanks to the students for all of their input and participation.
Semifinals Results and Championship Preview
The championship. The culmination of every competitor's wants. The last three weeks have been full of shocking results, such as Mr. Achille's Cinderella story run or Mr. Biebel's shocking loss to fellow science teacher Mr. Colwell. It all comes down to this, Mr. Parsons vs. Mr. Achille. Youth versus experience. History versus algebra. Student versus teacher. It all comes down to this matchup to see who reigns supreme.
Mr. Parsons and Mr. Achille are both coming off some of the largest margins of victory we've seen since the first round. Mr. Parsons took home an astonishing 64 percen6 of the vote over Coach G. Coming as little surprise the dominant underdog Mr. Achille took home 68 percent of the vote over Mr. Colwell. We can expect a hard fought and close matchup in this much anticipated championship round of the UF³C.
The losers, though, were very disheartened. They truly put their heart and soul into these hypothetical fights. Mr. Colwell commented, "I fought the good fight and apparently my athleticism was no match for Mr. Achille's great experience. I wish him the best of luck in the finals and I do NOT want a rematch."
5. Mr. Parsons vs. 11. Mr. Achille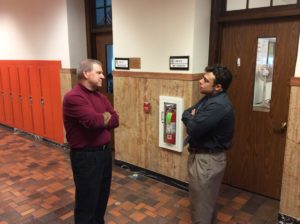 The final round features yet another student versus teacher matchup for the ages. The bruiser, Mr. Parsons, enters as a highly favored 5-seed. He clearly has the youth advantage on his side but that hasn't been much help for the previous competitors facing Mr. Achille. Mr. Parsons has to use his mass to his advantage and be able to take him to the floor.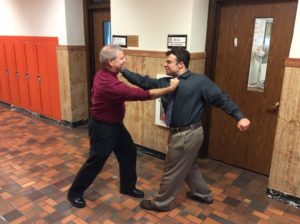 Don't sleep on Mr. Achille though. He has run the tables before and his lighter frame should help him to be able to keep up with the young social studies teacher. All the students can hope for is a competitive match between two tough teachers. Mr. Parsons commented,"Mr. Achille is easily one of the best teachers I have ever had. He is a legend. But we aren't going to be solving equations or graphing. This is a rumble. I know how scrappy and tough he is, but it's about to turn midnight for this Cinderella story. Plus I know what linear means so he won't come in to the fight mad.
Round Two Results / Semifinals Preview
The UF³C has finally been whittled down to the final four competitors. The elite eight had some of the closest matchups to date. Two of the match ups were decided by a mere two votes: Mr. Parsons over Mr. Ladoucer and Mr. Colwell over Mr. Biebel. These two matchups could have clearly gone either way. The upset of Mr. Achille over Mr. Markley was decided by a mere 8 votes. This round provides some interesting matchups that truly could go either way.
The losing teachers had a lot to say about their departures prior to the final four. Mr. Biebel, who lost to classroom neighbor Mr. Colwell commented, "He's got a family. I let him have it."
Mr, Ladoucer suffered a heartbreaker to Mr. Parsons. He simply stated,"I don't live in the fantasy world."
Mr. Markley was particularly distraught by the results and blamed the "media biases" for his loss.
Finally, there was Mr. Pituch who lost by the largest margin this round in his matchup against Coach G. "It seems size was the biggest factor in the voting," commented Mr. Pituch. "The seeding was flawed, and I believe we met way too early, but I think Coach G will take the rest of the competition."
The two pairings in the final four should be interesting. Here is a preview:
7. Mr. Colwell vs. 11. Mr. Achille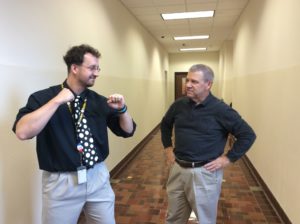 This matchup provides students with a true underdog story as the 7 and 11 seeds face off in the final four of the UF³C. Mr. Achille continues to shock the school, pulling off yet another upset last round against Mr. Markley. Maybe it's bias toward one of the prep legends; maybe it's students taking pity on him. Either way he keeps running the table against higher ranked opponents.
Mr. Achille stated, "There is something to be said about longevity and experience. Scientific theories mean nothing. Math is the language of the universe." Mr. Colwell also has been strong so far, beating number two seed Mr. Biebel in a close battle. His athleticism has carried him thus far, and it's tough to see him slowing down anytime soon. He said, "What I'm going to do to Mr. Bobby Achille is I'm going to 'big boy' him. I'm going to use my mass advantage to wear him down. He has lost too much weight lately to combat my HUGE weight advantage."
1. Coach Grychowski vs. 5. Mr. Parsons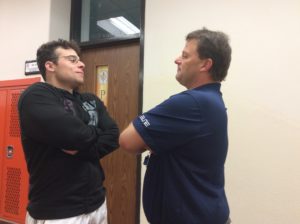 This matchup may present the biggest height difference of the tournament. Coach G has been dominating the tournament, winning by large margins over powerhouses such as Mr. Wahlmark and Mr. Pituch. Mr. Parsons has shown his brute strength, winning by the largest margin in week one and then by a mere two votes in round 2 against "The Wolverine" Mr. Ladoucer.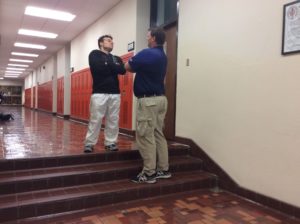 Coach G said, "This is going to be a SHORT battle with very LITTLE effort required. Unlike 1 Samuel, chapter 17, Goliath will get his revenge in the octagon!" Not to be outdone, Mr. Parsons said, "I have 14 years of built up anger for all of the short jokes I've heard over the years that I plan on letting out." We will see if the history teacher will be able to hold his own against the gym teacher.
Round One Results / Round Two Preview
The first round of the the UF³C is complete, and with only one upset, the stage is set for an exciting round two. All of the higher seeds took home a win with the exception of 11th seed Mr. Achille taking down 6th seed Mr. Vicary with an astonishing 67% of the vote. The largest margin of victory in round one went to Mr. Parsons, who claimed a staggering 75% of the vote over Mr. Hubert.
8th seed Mr. Pituch and 9th seed Mr. Baltzer had the closest voting with Mr. Pituch taking home the win by a mere 11 votes. The second round provides some very competitive matchups between the cream of the crop teachers. Don't forget to cast your votes this week to see who reigns supreme among the faculty.
It was a rough week for eight of the teachers at Prep who left the bracket early. Every teacher put up a good fight, but only eight could advance. Some of the teachers handled the loss better than others. Mr. Hubert lost his first round match up to Mr. Parsons in blowout fashion and was not pleased with the margin of defeat. "Did the students forget my CM Punk cosplay last Halloween? I've watched countless hours of WWE programming dating back to my childhood preparing me for this opportunity. No one knows fake fighting better than me!" He continued, "Sure, Mr. Parsons has a legit wrestling background, but who's to say I wouldn't resort to classic professional wrestling heel tactics and use a foreign object when the ref wasn't looking? Plus, my first rate rhetorical skills would inevitably help me win the psychological battle with pre-match promos."
Mr. Vicary was also distraught at his early exit saying," I could've beat Mr. Achille with a kettle bell tied behind my back." After it was all said and done, the votes were final and these teachers will just have to wait for their next opportunity to prove the students wrong. For now, it's on to the second round.
1. Coach Grychowski vs. 8. Mr. Pituch
After a close, controversial vote, Mr. Pituch barely pulled off the win on Mr. Baltzer and is now stacked up against crowd favorite, Coach G. This will be quite the matchup with two of the biggest bodies left in the bracket going against each other. When asked for a comment on this next matchup Mr. Pituch made a plea stating, "I think my body of work should show I deserve some serious consideration in this tournament." Meanwhile Coach G directly came out and stated, "He's a bully, and it's about time someone put him in his place." We expect a close outcome in this matchup to see who the real bully is.
4. Mr. Ladouceur vs. 5. Mr. Parsons
Perhaps one of the most competitive matchups to date, this pairing highlights the young guns going at it. Mr. Parsons and Mr. Ladouceur highlight two different, distinct fighting styles—one is a wrestler and one has a more stand up style. The two teachers exchanged some trash talk before the fight as well. Mr. Ladouceur commented, "this should be a close matchup, but Mr. Parsons has his fair share of shortcomings." Mr. Parson responded with,"I feel bad that Mr. Ladoucer has to face me so early in the bracket. Although he looks like the Wolverine with his mutton chops, he doesn't have the strength to match." This appears to be the most heated matchup yet and will be a battle to the end.
2. Mr. Biebel vs. 7. Mr. Colwell
This matchup from all the way over in the science wing will be one for the books, with Mr. Biebel's experience versus Mr. Colwell's athleticism. After Mr. Colwell took down one of the leaders of the school, Mr. Swanson, we expect to see an intensity we weren't expecting. Mr. Biebel expressed his experience when asked for a comment stating simply, "I've been in more dangerous situations with people worse than this. It'll be easy." But when Mr. Colwell heard this statement, he calmly responded, "I'll use my long reach to keep Mr. Biebel away." This matchup will show us who truly runs their second floor hallway in the science wing.
3. Mr. Markley vs. 11. Mr. Achille
The only upset in the first round was Mr. Achille over Mr. Vicary. Mr. Achille entered the competition as the oldest competitor, but he was able to keep power through the first round. This matchup is an interesting one, as Mr. Markley was actually a student of Mr. Achille's. Mr. Achille commented that "the student should always respect the teacher." Mr. Markley obviously comes in with the advantage of having his wrestling experience, but Mr. Achille has proven his upset potential before. We'll see who truly reigns supreme in this matchup, and see if Mr. Achille has some moves left in his playbook.
PUBLISHED October 18, 2015: Introduction
Welcome to the first ever Ultimate Faculty Fantasy Fighting Championship Bracket, or the UF³C. Our goal is to determine the answer to one simple hypothetical question: if the teachers in the school were to fight, who would reign supreme? We started with 16 teachers and power ranked them to create a bracket. We will have weekly updates on matchups as well as the results of who moves on to the next round and commentary from some of the competitors.
1. Coach Grychowski vs. 16. Mr. Wahlmark
Sitting at the top of our power rankings is the lean, mean power machine known as Coach G. Coach G. brings size, experience, and a constant adrenaline rush from NOS Energy Drink. Even with his size the power from his NOS drinks will ensure he will not tire out. Coach G. also brings his experience as a Division 1 football player as a former lineman at Villanova University, which puts him at the top of the teacher fighting bracket.
Despite being ranked as the last seed, Mr. Wahlmark comes into the bracket with a good amount of upside. Coach G. provides quite the daunting opponent, but Mr. Wahlmark has some secret weapons that could possibly play to his advantage. When asked what he brings to the table he responded, "I'm a Jedi." Hopefully he can use The Force to pull off one the biggest upsets the school has seen.
8. Mr. Pituch vs. Mr. Baltzer
Mr. Pituch seemingly missed his chance at standup comedy, ending up in a Prep classroom instead. Other than his average jokes, Mr. Pituch brings his size and Villa athletics to the table. Mr. Pituch has the potential to go far, and we might even see a few underdog wins with him.
The nine seed is Mr. Baltzer. Mr. Baltzer has a lot of fighting experience to bring to the table and is an avid participant in Civil War reenactments. We could see some varying strategies and tactics from this social studies teacher that could lead to some shocking outcomes.
4. Mr. Ladouceur vs. 13. Mr. Dougherty
Mr. Ladouceur comes into the bracket as a 4 seed with a ton of potential. The ex-Gannon University football player has plenty of gas left in the tank, and his football mindset should help him to cruise through the first couple of rounds. His only weakness is his bum knee, but other then that, the junior theology teacher has a chance to win it all.
Mr. Dougherty is one of the few non-teachers in this bracket and comes in as the 13 seed. He is perhaps the lankiest competitor, giving him the necessary reach to take on some of the shorter opponents. He also brings quite a competitive edge to him, stating he is ready to actually fight any teacher. We will see how he will actually stack up in our bracket.
5. Mr. Parsons vs. 12. Mr. Hubert
Mr. Parsons has the experience and bulk to make it far in this bracket. Known to have the strength of a gorilla, we all know Mr. Parsons as the big wrestler who can lift. But the one concern is the dreaded "TP's knees." Despite this, we expect big things this year out of Mr. Parsons.
Mr. Hubert could pull an upset in this matchup will his long history of athletics. We all know Mr. Hubert was a baller back in the day, playing against legends like LeBron James. This will be an interesting matchup to see if Mr. Hubert's superior basketball skills will be any match for Mr. Parsons' wrestling experience.
2. Mr. Biebel vs. 15. Fr. Jason Feigh
Mr. Biebel is many people's favorite to pull out the win in this competition. He brings to the table quite an impressive résumé. His coast guard training gives him a huge edge over many of the other teachers with no such training. He should have no problem outlasting his opponents due to his bike racing. Finally, his knowledge of physics should help him plot out his plan of attack.
Father Jason is a huge underdog in this matchup, but he does have a fair deal of upset potential. He has perhaps one of the busiest jobs at Prep—his responsibilities include holding mass, leading campus ministry, and teaching classes—leading to his ability to handle pressure well. Perhaps the most important part to his game: God's on his side.
7. Mr. Colwell vs. 10. Mr. Swanson
Mr. Colwell is perhaps one of the most underrated teachers coming into this bracket. He brings the type of low key athleticism every 40-year-old father would love to have. His science background should help him understand his opponent's weaknesses. His basketball and swimming background should give him the strength to power through the competition.
No competitor has more power in the school than assistant principal Mr. Swanson, who enters the competition as a 10 seed. Mr. Swanson is known for tossing kids out of sections like it's nobody's business. We will see if he can use the same strength to toss his opponents. Hopefully he can visualize his opponent doing the dreaded "I-D, I-D, I-D-O" chant.
3. Mr. Markley vs. 14. Mr. Bhatti
Mr. Markley comes in to the bracket as the highly touted 3 seed. He comes in with a swell of wrestling experience and still currently coaches Prep wrestling. He will be a tough competitor to beat, especially if he takes his opponent down to the mat. He should have the energy from all the Mountain Dew he drinks to keep a sustainable level of energy. The first round gives him a favorable matchup against Mr. Bhatti.
Mr. Bhatti comes into this matchup as a heavy underdog. Hopefully his technological knowledge can help to give him some type of advantage, but if he gets taken to the ground early there is not too much hope for him. Hopefully there is a wrestling book somewhere in the library he can read up on so that he will have some sort of knowledge as to what Mr. Markley is bringing to the table.
6. Mr. Vicary vs. 11. Mr. Achille
Mr. Vicary enters this match up with youth on his side. The art teacher can hopefully use some of the skills he has acquired throughout the years of sculpting to his advantage. His grueling kettlebell training regiment as well as his racquetball skills could possibly be a game changer, giving him the endurance he needs to outlast the seasoned veteran teacher Mr. Achille.
Although the lower seed in this matchup, Mr. Achille provides Mr. Vicary with a daunting opponent. Having more than 35 years of teaching experience, he's essentially seen it all within the halls of Cathedral Prep. He brings the intimidation factor to the table, having scared freshman out of their seats every year. Hopefully he can turn back the clock and show us that age is just a number.
Students can vote for winners of the first round matchups starting Monday, Oct. 19, using a Voting 4 Schools link that will be sent out by Mr. Pituch.