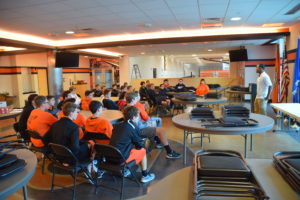 As the freshmen settle in at Cathedral Prep, they are growing accustomed to high school. They are forming bonds with each other and the teachers. They can call themselves Ramblers and proceed to achieve excellence in all that they do. To help them grow in each aspect campus ministry organized a retreat for the fantastic freshman to grow in the three main areas that Cathedral Prep emphasizes the most: spirit, mind, and body.

Father Feigh, campus ministry director, organized the retreat for the Cathedral Prep freshmen class. There were six planned programs for the students: prayer, Rambler ball, peer witness, confession, free time which divided into ultimate Frisbee and corn hole, and the day ended with Mass.

"The main objective of the retreat is to bond as a class, learn objective lessons of faith and brotherhood, and skills to cope with the challenges of high school," said Father Feigh. Any Cathedral Prep alumni, teacher or faculty member, or student, can tell you that the brotherhood at Prep is one of the best aspects about the school. All students consider themselves brothers and have spent a lot of time with each other. As a freshman, it is important to start the brotherhood bonding process as soon as possible. High school can often be tough for some people, but with the help of their fellow brothers, they can get through it.

Being in charge of forming a great retreat for Father Feigh, "has been humbling," he said. "No matter what grade, it is always a great experience to organize it and watch it unfold." He also got some great help from the class of 2016, the seniors. They helped run each program, helped with Mass, and helped keep the freshman entertained in between events. They sacrificed a day off from school to help their younger classmates because they know how important it is for them.
The one thing Father Feigh had hoped would have been better was the weather. But overall the outcome of the retreat has been positive.