Nick's Netflix Pick of the Week: Malcolm in the Middle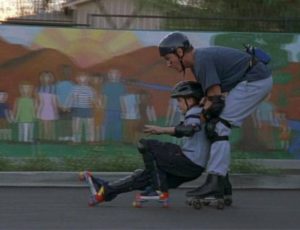 This week's Netflix pick throws it back to a lesser known show among today's society. That show is Malcolm in the Middle. Malcolm in the Middle is a sitcom that first aired on Jan. 9, 2000. The show originally aired on Fox, but re-runs were later broadcasted on channels like FX and TeenNick.
Malcolm in the Middle follows the life of a very unusual family. Constantly yelling and arguing with each other proves that this family is anything but normal. The main character of this show is Malcolm, a kid genius. Forced to take classes with the very smart kids at school makes his friends a very nerdy group of kids.
Malcolm's brothers are all troublemakers learning from the best, their older brother Francis. The oldest son Francis had such bad behavior that his parents had no other option but to send him to a military boarding school. The three younger boys often call him when they need to get out of trouble from their parents.
The creator of Malcolm in the Middle is Linwood Boomer, a past cast member of Little House on the Prairie. Some of the most notable cast member on the show are Frankie Muniz who plays Malcolm and Bryan Cranston who plays the father, Hal. Cranston later went on to star in AMC's hit show Breaking Bad.
Some of the best and most popular episodes of this great series are "Roller skates", "Mini-Bike" and "Speed Walking." My favorite of these episodes is "Roller Skates." In this episode Malcolm wants a pair of roller skates and the only way he can get them is by getting embarrassing lessons from his father Hal. Through these lessons Malcolm
finds out just how graceful and magnificent his father really is in a pair of roller skates.