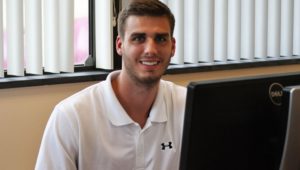 Dominic Sansone is young journalist who is starting out his career at the Erie Times-News. An alumnus of Cathedral Prep (Class of 2011) and Gannon University (Class of 2015), Sansone has surely made his mark on the world of journalism.
Sansone currently works as a sports journalist at the Erie Times-News. Sansone realized his talent in writing about sports as a high school student. "I've always had a knack for writing since I was young," he said. "I started a basketball blog when I was in high school, but never really thought much about making a career out of it." This blog came about when he was a student at Prep.
Sansone began his Prep education in 2007 and went on to graduate in 2011. After graduating from Prep, Sansone went on to enroll at Gannon University. After spending his freshman year at Gannon he transferred to Slippery Rock for his sophomore year. Once his sophomore year was over at Slippery Rock he realized his true home was at Gannon University. Sansone's junior year at Gannon was pivotal for his future. "It wasn't until my junior year at Gannon when I really started to focus on working to be in the field of communications." It was at this time when he began to learn skills and techniques that he uses in his writings today.
While he was at Gannon, Sansone spent his time writing for The Gannon Knight. Similar to The Rambler, The Gannon Knight is a student published newspaper. While writing for The Gannon Knight, Sansone served as the editor of the sports section. Often times he could be found at sporting events taking notes on the game and getting quotes from coaches and players to help build up his story. Sansone graduated from Gannon University in December of 2015.
Upon his graduation he chose to take his career to the Erie Times-News. There he is doing familiar work, writing as a sports journalist. Sansone enjoys writing for the local newspaper but says the hardest part of his job is meeting deadlines. "Nothing is more nerve-racking than cutting it close to the deadline, but at the same time it can be an adrenaline rush."
He enjoys being able to meet new people as a journalist. "I remember a journalist saying one time that being part of the media is like 'having a backstage pass to the community' and that could not be more true." With a young, developing career Sansone has been learning new things while writing for the newspaper. "It has just been a process of finding a style that works best for me and allows me to write stories at a timely manner."
Sansone enjoys writing about basketball but covers a wide variety of sports. Be on the lookout for his great writing in the Erie Times-News.