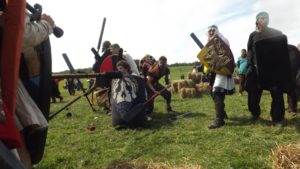 This past weekend on May 21 was the Erie Library Comic-Con, a free event open to the public based out of the Blasco Library. The event had a small vendor's hall, one single room for panels, a small retro arcade room, and a select few small booths open for demos of games like Warhammer 40k and Magic the Gathering.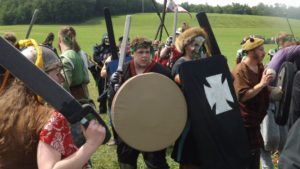 Outside in the open field in front of the library was something unlike anything many people have ever experienced before, the Dagorhir demo. The booth was an easy-up with one table run by a few people clad in black-and-red medieval garb. These were the Blood Horde, a unit based out of Illinois, whose members spread all over the United States. They demonstrated the wonders of LARP, which stands for Live Action Role Play.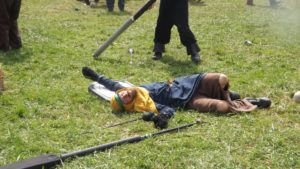 Dagorhir doesn't exactly fit that mold. The game is more along the lines of a medieval combat sport as there is no magic outside of healing poems. The game is played with foam-padded weapons. While that sounds rather tame and childish, it is far from it. The cores of most weapons are PVC piping or fiberglass poles, and they are subsequently padded with layers of foam and then covered with cloth. These weapons have heft. When swung, they sting and have the capacity to leave bruises and welts.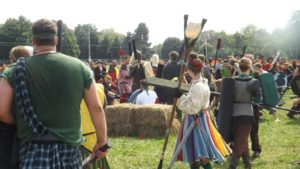 The game has rigid rules but every rule centers back to three core tenants: safety, playability, and honor. Safety is obvious. People aren't allowed to aim for the head as well as following the guidelines from the rules online. Playability is not so simple to explain. It refers to guidelines regarding garb or dress as well as making a cohesive play experience for yourself and other players. Honor is following the code of conduct and being honorable in defeat and humble in victory. The game is fun and really unique as well as being the longest running of all battle games.
Anyone interested can attend a practice. Practices take place on Sundays in Frontier Park on West 8th street, across the street from Country Fair.