The fifth annual Spirit, Mind, and Body Day was held last Friday, May 20 at the PVEC. The final results were close, but the seniors edged out the other classes to claim victory. The final point tallies were as follows: Seniors (3,730), Sophomores (3,610),  Juniors (3,000), and Freshmen (2,400).
Spirit, Mind, and Body Day is always an exciting day to look forward to during the year, and the weather for this year's event could not have been much better. The event was held at the PVEC, and for the first time ever, some of the competitions were held in the Joann Mullen Gymnasium.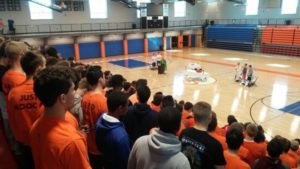 The day started with a lovely mass from Father Jason in the gymnasium. The students all sat with their classes in the bleachers during mass. After mass ended, the students all went outside and waited for the activities to begin.
Each student has his own different schedule of activities and different times to play throughout the day as well as down time to watch friends or grab a bite to eat. Students represent their class to win the events and accumulate more points to win the whole day.
This year, the process for paying for food was different. Ms. Oldach, special events manager, exchanged money for tickets that were used to purchase food items at the PVEC. A "meal deal," was one main food with a side and a drink.
SMB Day is a very competitive day every year, and it is always fun. This day will always be fun, especially when the weather cooperates. The last couple of years, the weather has not been that nice, but this year, we finally got a nice day. The sun was out, and students were having lots of fun. The events started around 10 a.m., and the final events wrapped up around 1:40 p.m.
Activities for 2016 Spirit, Mind, and Body Day included the following: 3-point contest, cage ball, video games, volleyball, flag football, soccer, can jam, Ultimate Frisbee, track events (400-meter dash, 100-meter dash, 4×100-meter dash, long jump, etc.), hockey, corn hole, rock wall, Texas Hold'em, badminton, chess, 4-Square, dodgeball, and kickball.