New faces highlight Prep's morning news
Students and faculty alike are brought together each and every morning at 8 a.m. for the latest news and announcements at Cathedral Prep. The morning news provides a fun way to start off the school day while the famous "Moose F.M." brings viewers/listeners some of their favorite hits while making their way to the classroom. The daily news provides the faculty, staff, and student body to the opportunity to join in prayer to start the day, while giving a brief rundown covering the day's events and schedules. The announcements they cover range from sports scores and highlights to the lunch, bell schedule, word of the day, extracurricular activities, and the highly anticipated class changes.
Mr. Tom Deau produced and directed the daily news for years prior to his departure from Cathedral Prep at the end of the 2015-2016 school year. Mr. Deau now works at Penn State Behrend as the head of video production.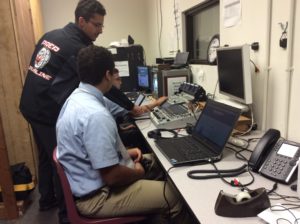 With the fate of the news hanging in the balance, fellow MVP (Music, Visual, and Performing Arts) teacher Mr. Viera took over leadership of the morning news. While many of the functions of the daily news have stayed the same, Mr. Viera has now started emailing the student body with a transcript of that morning's newscast for any Gannon students or students who may have arrived late to school that day.
In addition to Mr. Viera, the anchors on this year's broadcast are also new. A pair of seniors, Luke Baloga and Trey Deitrick, bring a light and fun approach to the morning news. Trey states that working with his good friend Luke, "definitely helps, but [it] also hurts a little bit because it's hard not to laugh on camera." The two of them bring new energy to the morning news and with it a new twist. As in recent years, the "Word of the Day" feature concludes each broadcast with its definition and then using the word in a sentence. With Trey and Luke as anchors, Jack Rose has become a staple of these sentences as his name is always thrown into the mix with these words. Trey said, "Jack Rose has a special place in my heart."
The daily news is a staple of life here at Cathedral Prep. "I like the daily news," said Prep Spanish teacher Ms. McElhinny. "I think it is fun, and they do good job starting off the day. It's wonderful to bring the whole school together for morning prayer, and it's a great way to share important information and announcements with the student body."