The Erie community suffered a heartbreak with the tragic passing of Penn State Behrend freshman Alyssa J. O'Neill in September as a result of an epileptic seizure. Alyssa clearly touched the lives of everyone she met. The community, country, and parts of the world have embraced her death with a "Pay it Forward" campaign inspired by Alyssa.
During one of the last conversations between Alyssa and her mother she spoke about going to Starbucks to purchase a pumpkin spiced latte. In honor of their daughter, Alyssa's parents purchased 40 pumpkin spice lattes for the next customers who ordered them, adding the simple request that #AJO, for Alyssa Josephine O'Neill, be written in purple marker on the cups to raise awareness for epilepsy.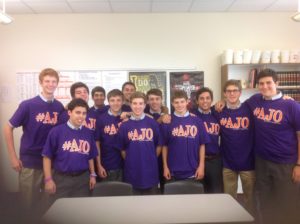 This started a local and now global "Pay it Forward" movement (with #AJO spreading virally on the Internet). Citizens from all over the world from South Korea to California and Germany to Alaska have  participated in this "Paying it Forward" movement, honoring Alyssa with #AJO. Starbucks patrons have especially embraced the movement by leaving money at the counter for clerks to purchase the next customer's beverage; hence this random act of kindness makes their day. As the #AJO movement has grown, "Paying it Forward" has spread far beyond Starbucks coffee. People are performing random acts of kindness everywhere in her honor.
"Pay it Forward" is a 2000 American drama film based on the novel of the same name by Catherine Ryan Hydee. It is about a boy who launches a good-will movement that created a wave of "good deeds" across the world. The story unfolds when 11-year-old Trevor McKinney begins seventh grade in Las Vegas, Nevada. His social studies teacher, Eugene Simonet gives the class an assignment to devise and put into action a plan that will change the world for the better. Trevor's plan is a charitable program based on the networking of good deeds. He calls his plan "Pay It Forward," which means the recipient of a favor does a favor for three others rather than paying the favor back. Trevor does a favor for three people, asking each of them to "pay the favor forward" by doing favors for three other people, and so on, and a long branching tree of good deeds transpires.
#AJO has even caught the eye of popular, influential figures such as Senator Bob Casey, Ellen DeGeneres, and  SNBC. In a big way Alyssa's legacy has united people from all over the world, reminding us that "Paying it Forward" brings out the best in each of us.
Today her spirt, her kindness, her generosity lives on in all of us. So, "Pay it Forward" today for Alyssa. She has taught us well.
For the latest on #AJO, follow @AJO4EVER on Twitter, like AJO Forever in our Hearts on Facebook, or visit ajoforever.com.
AJO/Epilepsy Awareness Flag Football Tournament

The 1st annual AJO/Epilepsy Awareness Flag Football Tournament will be held Saturday, Nov. 2 from 9 a.m. to 9 p.m. at the Cathedral Prep Events Center in Erie, Pa.
There are three divisions for play: high school, open, and co-ed. Teams may consist of six or more players, and the cost is $5/player. All teams are guaranteed at least two games and will play more if they keep winning.
A live DJ will be on site and other activities will make this an event for the whole family to attend. Contact [email protected] to sign up or for more information.