Mr. Adam Kaiser is an alumni of Cathedral Prep in the Class of 2006. He enjoyed his time at Prep so much he is coaching basketball for this school already. Adam loved Prep because it was a great experience and four of the best years of his life. He got to know a lot of great people during his years at Prep and is still meeting new people because of his connection with Prep to this day.
Kaiser recalls Prep had great academics and teachers that were willing to go above and beyond for their students. Prep also had great sports programs and great coaches that were willing to put in a lot of time to help the student athletes compete at a high level on the field, but also make sure they were doing well in the classroom. Kaiser had a lot of great teachers throughout his years at Prep and it would be impossible for him to pick just one as his favorite.  All of his teachers at Prep pushed him to his full potential and he thanks them for that today.
Kaiser ran cross country at Prep for four years, played basketball for four years, and was on the track team for four years. Basketball was great for him because Prep had some really good teams and made a great run during his junior year, making it to the final four in the state. He made a lot of great friends playing basketball at Prep and those friendships carried over into college and beyond.
When asked about his classmates and his connection, there was a heartwarming feeling. Kaiser liked his classmates a lot because they all got along really well and had some great times together during their years at Prep. He is still in contact with some of his classmates from Prep. His graduating class has a Facebook page that they use to stay in contact with classmates that have moved to other places. Even though Adam doesn't talk to his friends from Prep as much as he would like to anymore, he knows that if he is ever in need of anything from any of them he could contact them and they would be there for him, which is a special bond to have.
There were a lot of funny and memorable moments throughout his time at Prep. The one that sticks out the most is from his senior year on one of the last days of school. A few of his classmates set up a slip 'n' slide outside on the lawn after school and a bunch of his classmates were sliding down it, dressed in their school uniforms. Kaiser knew that this moment was one of his favorites because it was just his brothers basically being brothers. Nothing is better than that.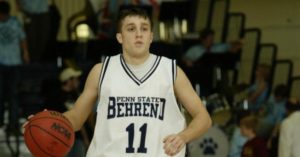 Prep prepared Adam for college in a lot of different ways. He attended Penn State Behrend. Academically, he was more prepared than most students entering college. He had developed great study habits and knew how to manage time properly in college because of the way Prep prepared him. He also played basketball at Behrend. Being able to balance his school work while he was playing a sport was a technique that he already was used to from his time at Prep.
There are times he wishes that he could come back to Prep and do it all over again, but Kaiser would want it to be the same. He would not change anything about his experience. His time at Prep produced a lot of great memories, and the school means a lot to him. This is where his life started and prepared him for the future.
We all look forward to building up this mentality when we are out and about from Cathedral Prep. We want that brotherhood to stay as well as the memories in our mind. Adam Kaiser is an example of the impact Prep can make on many students and alumni.