Let's Talk, the first play to be presented in Prep's Spring Theater Festival, is set to open Thursday, May 11, and will have two more performances the following Saturday and Sunday. The comedy, written by senior Brian Buseck and junior Dominic Montefiori, revolves around the love lives of three roommates, and is told through a series of flashbacks during a group therapy session.
Montefiori, an aspiring director, took on the challenge of directing this piece, and Prep/Villa's usual director, Fr. Mike DeMartinis, stepped into the role of producer, helping acquire any set pieces and props needed, and taking care of things like tickets and programs. The show's comedic styling is based off of the writers' favorite sitcoms: Seinfeld, How I Met Your Mother, Friends, and New Girl.
The play begins with the therapist entering the apartment of Jude and Aaron, where the therapy is taking place. Dismayed at how many people are in therapy sessions, the therapist has everyone introduce themselves. Jude then begins the telling of the story as to why they are in therapy in the first place.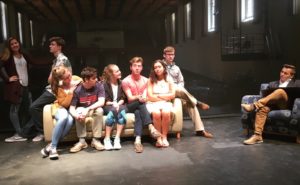 This story begins with Jude getting dumped by his girlfriend Tiffani. He then launches into a depressive state, which his friends Aaron and Kenny try to pull him out of. They drag Jude to a party to get his mind off Tiffani, and here Aaron meets Claire, a girl who has a boyfriend, and he instantly falls in love with her. From here on out, Aaron pursues Claire, and Jude continues trying to get over Tiffani by any means necessary. Exploring the love lives of these twenty-somethings takes the audience through a story of surprises, romance, betrayal, and hilarity.
Showtimes are this Thursday and Saturday at 7 p.m. and this Sunday at 2 p.m. in the Prep auditorium. Make sure to get out and support this original work put on entirely by Prep & Villa students.