Athlete of the Week: Calvin Behm (water polo)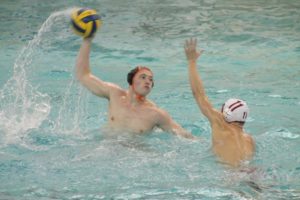 Cathedral Prep has had a rich history in the sport of water polo, featuring talented players who have led the team and gone on to play in college at a high level for many years. Calvin Behm recently surpassed them all. Calvin, a senior this year at Cathedral Prep and a captain of the water polo team, broke the all-time scoring record at Prep. Originally held by Daniel Bauman a recent graduate of Cathedral Prep, Calvin surpassed this record during a game at the McDowell Cup, against former state champions, Cumberland Valley. A second quarter goal catapulted his name to the top of a decorated list of players.
Calvin is no stranger to the game of water polo, as he has been playing it for almost his whole life. He has played locally for Epic Water Polo Club based out of Erie under the supervision of head coach Panos Tzelatis, who has coached multiple European and world champions, as well as several Olympians. Calvin has traveled to California to play with the best in the country multiple times and has been selected to numerous Olympic Development Programs where the best juniors in the country can come and train together. The past few summers he has traveled to Montenegro and Greece, staying with host families to perfect his craft internationally. He will continue his water polo career next fall on a water polo scholarship at the University of Pacific, a top-five NCAA Division I Team.
Calvin's hard work has earned him multiple first team all-state honors, and he is the clear favorite for the prestigious "Mr. Water Polo Award," given to the state MVP each year. His ability to create opportunities and explosive goal-scoring ability has  given him the chance to extend his record with the rest of the season in front of him.
"I had no intention of going out of my way to break the record," said Calvin after the 15-10 win against Cumberland Valley where his second of five goals stamped his name in history.
Andy Burns, who also captains the Prep water polo team, has played along side Calvin for many years. He gave his teammate high praise, "I admire his determination and how much effort he has put into this sport," Andy said. "His love for polo is apparent in his play and it is what has helped him to get to the level he is at today."
The connection to Prep water polo team and his brothers means a lot to Calvin. "Playing for Prep motivates me to play to the best of my potential," he said.
Michael Doyle, head coach and starter on the 1999 water polo team that was runner up at the state tournament, also commented on Calvin's ability. "He doesn't just play for himself but [also for] the team. He makes the passes and does whatever it takes so he can help the team win," he said.
If you see Calvin in the halls please congratulate him on this achievement and his many others. He and the Rambler water polo team will be back in the pool Saturday in the Tiger Classic at North Allegheny High School.