Student Profile: Alec Thomas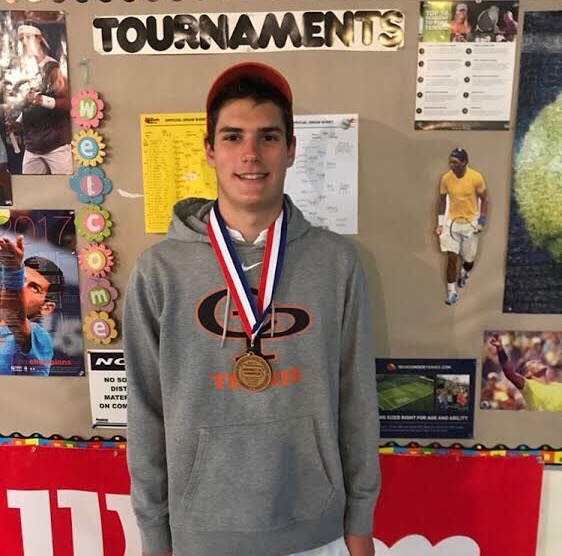 Alec Thomas is well known for his talent in the swimming pool. Since freshman year, he has competed in various swim meets for Prep's varsity team. His ability has brought in Division I offers from various schools all over the country. With all this recognition, many people are astounded to learn that Alec also competes and excels at another sport, tennis.
Alec has been playing tennis since he was three years old. His mom, a former division one tennis player for Duquesne University, introduced him to the sport. "One of my earliest memories is my Mom tying a tennis ball from our garage, then handing me a kick-start tennis racquet." As a result, tennis has always been a big part of his life.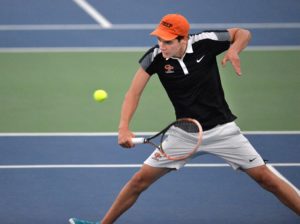 Throughout his years, Alec approached tennis as a break from swimming year round. "It's something that I really enjoy, and it gives me a mental break to get my hunger back for swimming." By being a two-sport athlete, tennis has been a huge contribution to Alec's mindset as an overall competitor. "The biggest thing I have learned from tennis is that you're never out of it." This mentality has allowed him to win D-10 tennis matches and also break countless swimming records. "There have been moments where I've had to dig deep and find a completely new level."
As someone whose main sport is not tennis, Alec's game-plan is specialized just for him. "I approach a tennis match different from swimming. My main goal is to make my opponent as uncomfortable as possible." This gives him a strategic mental edge over his opponents.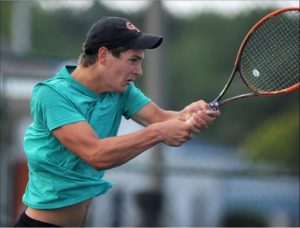 Currently, Alec's biggest influence has been Prep tennis coach Pat Grab. Grab was the person who influenced him to go to Prep. "Going to Prep was not very enticing for my family. I was supposed to swim for Mercyhurst," he recalled. Grab introduced Alec to what it meant to be surrounded by people who wanted to win just as much as he did. Prep enticed Alec to be part of something greater than himself, being able to represent an established sports program but also forge his own path. "Pat has helped me in all facets of my life. He's fully involved in my development as an athlete."
Being on the tennis team has given Alec long lasting relationships throughout his four years at Prep. He remarked, "I'm great friends with everyone on the tennis team." The way he looks at it is through two sides of being a good teammate, being a supporter and a leader. As a supporter, Alec will be the loudest guy in the stands when cheering on his teammates. As a leader, he's responsible for holding everyone accountable. "If someone messes up, I'll let them know."
Although tennis is an individual sport, Alec cherishes its team aspect. "It feels good to play for a school that I've grown to love, knowing that my teammates have my back is a great feeling." For the younger guys, "I want them to know that failure is going to happen. It's all about what you make of it. Going through failure only makes winning that much better."
This year, Alec already has his sights set on a state championship for both doubles and singles. "I'm trying to work hard on being a good doubles partner." This is his last year, and he expects to make the best of it. Expect big things from Alec Thomas not only in the pool but also on the court.