Cathedral Prep was full of action this year on Halloween thanks to activities led by Student Council, Key Club, NHS, and Campus Ministry. The Halloween parade and costume contest were a huge success and made for a very fun day inside the walls of Prep.
A Halloween parade was held at Prep for the students of Mother Theresa Academy to give them an exciting day. The MTA students traveled the halls of Prep, collecting candy and toys from various teachers and office workers before making their way to the gym. In the gym, members of Student Council, Key Club, NHS, and Campus Ministry passed out candy, books, and play dough, and also had stations set up to entertain the MTA students. At the stations they played with play dough, played duck, duck, goose with Prep students, and participated in Halloween-themed games, such as "witch hat ring toss" and "pumpkin bean bag toss." This was a lot of fun for the children at Mother Theresa Academy, as they got to spend some quality time with students at Prep and go trick-or-treating throughout the school.
There was a great turnout for the costume contest this year. There were a lot of very creative costumes and more people participated than in past years. A new addition to the contest was the five themes that were introduced: History, Athlete, Pop Culture, Animal, and Spooky. The winner of each contest earned a $20 Amazon gift card. There was a great turnout for each of these themes, but there could only be five winners.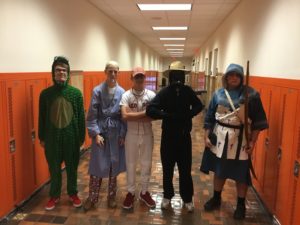 When asked how he thought this year's Halloween parade and costume contest went compared to previous years, Student Council President Matthew Whaley said that he thought the students were "better prepared for the MTA students, allowing them to have a better overall experience here at Prep" and that the costume contest "had a lot more participants and inspired creativity in costumes due to the more incentivized prizes"
Halloween at Prep was a triumph this year thanks to all of the help from the various clubs and organizations.